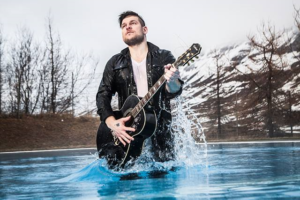 Rúnar Eff is one of 12 candidates fighting to win this year's Söngvakeppnin and represent Iceland at the Eurovision Song Contest. We talked to him about the song, which is now available in both English and Icelandic, but also about his relationship to the contest.
We have learned a lot about Rúnar Eff in this interview. Who is he. What are his plans for the Icelandic national final for Eurovision that he takes par in, why he decided to submit Make Your Way Back Home in Söngvakeppnin 2017. Will he sing in English or in his native language?
Hello Runar, Can you please tell us about yourself?
My name is Rúnar Freyr Rúnarsson usually known as Rúnar Eff. I make my living singing and playing all kinds of different music, in all kinds of different venues. I have two albums out and the last one I did has a sort of Country/Rock vibe to it. So this potential Eurovision song is something quite different to what I'm used to do 🙂
How did you decide to take part in the upcoming Söngvakeppnin?
I wrote this song about two or three years ago, but I was never happy enough to release it, so it somehow ended up getting forgotten and in the bottom of my guitarcase, Then a few months ago I started working on the song again and made some changes that I was happy with. So I decided to send the song into the competition just a few hours before the deadline.
Is your entry Mér við hlið is a personal story? What is it about?
The song is quite personal, although it started out as a little bit of a joke. My girlfriend comes from Ísafjörður wich is about a six hour drive from my hometown Akureyri, she went to her hometown for a visit and I decided to write her a song right the next day, asking her "Make your way back home" as life is quite boring without her 🙂
Do you follow Eurovision Song Contest? If yes which are your favourite entries in the contest?
Yes, I watch it every year, like most people in Iceland. My favourite all time Eurovision song is Hold Me Now – Johnny Logan, a beautiful ballad from 1987 🙂
Of the Icelandic ones I have a strong connection with both Gleðibankinn from 1986 and Sjonni´s friends – Coming Home.
Some people say that Iceland, because of its location and size, can't win the contest? Do you agree with that?
No I think everything is possible with the right song and the right singer. Jóhanna Guðrún was pretty close with Is It True as was Selma with All Out Of Luck.
Will you sing your entry in english or in your native language?
In the first round here in Iceland every song will be performed in Icelandic, but if I make it through to the final, it will be in English.
Will you have a special stage presentation?
Well we are working on that part as we speak, but I am not much of a dancer, and the song is intimate but powerful, so we are trying to figure something out that will suit the song as well as possible.
Which question that I didn't ask you, would you like to ask yourself and what will the answer be?
Do you only do your own music or cover songs aswell?
I do both, if you search YouTube for "Runar Eff" you will find a bit of both, I recommend you check out my covers of Take On Me and Holding Out For A Hero.
The semifinals of Söngvakeppnin 2017 will take place at Háskólabíó on Saturday, February 25th and Saturday, March 4th. The final will be held at Laugardalshöll on the 11th of March.
Rúnar Eff released this evening the official video of the Icelandic version of his entry in Söngvakeppnin 2017, Mér Við Hlið:
Below is the English version of the song, Make Your Way Back Home: