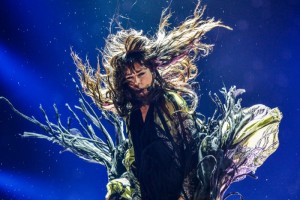 After RÚV has revealed the 12 participating songs in Söngvakeppnin 2016 last week, it has been comfirned yesterday that two former Eurovision winners has been invited to perform at the icelandic national final, which this year celebrates 30 years of life.
This year, Iceland will be celebrating the 30th anniversary of "Söngvakeppni Sjónvarpsins", one of the biggest TV shows in the country, which is also their national selection for the Eurovision Song Contest. For that reason RÚV decided to invite two ex Eurovision winners to celebrate with them.
Sandra Kim, the only winner from Belgium until now, and Loreen, the fans favourite from Sweden, have been invited by broadcaster RÚV because of their 30 year anniversary of the contest. Söngvakeppnin 2016 will start with two semi finals, the first on February 6th and the second on February 13th, with six songs competing each night. The semi-finals will take place at Haskolabio venue. The Final will be held at Laugardalsholl Arena on February 20th, where Sandra and Loreen will perform and her winning songs.
You can listen all the candidate songs in the Icelandic final in our previous article.
Iceland in the Eurovision Song Contest
Iceland has participated in the Eurovision Song Contest 28 times since its debut in 1986, and this year will celebrate 30 years in the contest. The country's best results are two second-places (1999, 2009). Iceland remains the only Northern European country that has yet to win the Eurovision Song Contest.
RUV usually uses Söngvakeppnin to select their participant for Eurovision, however an internal selection has been used a few times.
Last year Maria Olafs with her song Unbroken was the winner of Söngvakeppnin 2015 and represented the nation in Vienna. With 14 points Iceland was 15th among 17 entries in the 2nd semi-final and due to that result unable to continue to the final.
Below you can watch Maria Olafs performing her song Unbroken at last year's Eurovision Song Contest: