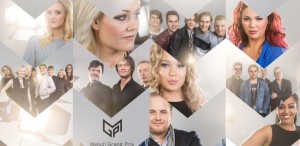 After receiving almost one thousand songs, the Norwegian broadcaster NRK revealed today the 10 songs and their snippets that will take part at their annual Melodi Grand Prix. Melodi Grand Prix will take place on the February 27 at the Oslo Spectrum.
The 2016 Norwegian national final will be hosted by SiLyA and Kåre Magnus Bergh and will be held on Saturday, February 27, at the Oslo Spektrum. Today NRK revealed the 10 acts and their songs that will fight for the victory in Melodi Grand Prix and the right to represent Norway at 2016 Eurovision Song Contest.
Agnete Johnsen- Icebreaker
Elouiz- History
Freddy Kalas- Happy Rush
Laila Samuels- Afterglow
Makeda- Stand U
Pegasus- Anyway
Stage Dolls- Into the fire
Stine Ulla – Traces
Suite 16- Anna Lee
The Hungry Hearts feat. Lisa Dillan- Laika 
You can listen a small snippet of each song in the official site of NRK.
Norway in the Eurovision Song Contest
Norway has participated in the Eurovision Song Contest 54 times since making its debut in 1960 and has only been absent twice since then. In 1970, the country boycotted the contest over disagreements about the voting structure, and, in 2002, they were relegated. Norway has won the contest three times (1985, 1995 and 2009).
Norway's first entrant in 1960 was Nora Brockstedt, who finished fourth. Åse Kleveland subsequently finished third in 1966. These would remain Norway's only top five results until 1985, when Bobbysocks gave the country its first victory with the song La det swinge (Let It Swing). The country achieved two more top five results over the next ten years: in 1988 and in 1993. Norway's second victory came in 1995 with Secret Garden's predominantly instrumental,Nocturne. In 1996, Elisabeth Andreassen, who had won the contest as one half of Bobbyscocks in 1985, ranked second. In 2003, Jostein Hasselgård was fourth. Norway won for the third time in 2009 with Alexander Rybak'sFairytale, his winning score of 387 points being the highest ever winning total (the entry also achieved the biggest ever margin of victory).
Norway also has two other notable Eurovision records: of having finished last in a Eurovision final more than any other country and of having achieved the most "nul points" in the contest. The country has finished last eleven times and has failed to score a single point four times (in 1963, 1978, 1981 and 1997).
Since the introduction of the semi-final round in 2004, Norway has finished in the top ten six times. Wig Wam finished ninth in 2005, Maria Haukaas Storeng was fifth in 2008, Alexander Rybak won in 2009 as mentioned previously, Margaret Berger was fourth in 2013, Carl Espen finished eighth in 2014. In 2015 in Vienna, Mørland & Debrah Scarlett finished eighth with A Monster Like Me, giving the country their third top ten finish in a row. Norway has a total of 11 top five and 22 top ten results in the contest.
Below you can watch Mørland & Debrah Scarlett performing their song at the 2015 Eurovision Song Contest.