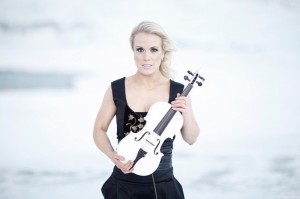 Greta Salóme with her song Hear The Calling was the big winner of Söngvakeppnin 2016 and she will represent Iceland in Stockholm. RUV revealed yesterday the detailed results of the televoting in the Icelandic national final, showing that Greta achieved a landslide victory in the Super Final.
The televoting results showed that the eventual winner Greta Salome struggled to qualify more than to win the entire Icelandic national selection. Greta finished 3rd in her semi final with a total of 4,534 votes, this was 1,400 votes less than the winner of the first semi final; Karlotta Sigurðardóttir.
In the second semi final it was Alda Dís Arnardóttir who got the most public votes of the two semi finals scoring a total of 6,897 votes. Helgi Valur Ásgeirsson received the least votes of any song in the contest getting just 1,256 votes.
In the super final Greta Salome's win was more than clear. In the Super Final she received 39,807 votes which was 61.32% of the total votes. Alda Dís Arnardóttir received 25,111 votes, 38.68% of the vote.
Söngvakeppnin 2016 had extremely high viewing figures as well. The show was watched by 70% of the population at some point during the show.
Below you can watch the detailed televoting results:
Below you can watch the Icelandic entry for the 2016 Eurovision Song Contest: