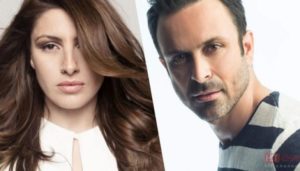 The so far only Greek Eurovision winner Helena Paparizou joins forces with Constantinos Christoforou, the Cypriot artist who represented his country three times in the contest. Together they released a song for a TV series in Cyprus called Zoi Mou (My Life).
Constantinos Christoforou is the only artist along with Evridiki that represented Cyprus three times in the Eurovision Song Contest, twice as a solo artist (1996, 2005) and one as the lead singer of the boyband ONE (2002). Helena Paparizou is the pop queen of Greece and the so far only one to bring Greece a victory when she won with My Number One in 2005.
This time Helena and Constantinos joins forces for a soundtrack in a TV series for Mega TV. Constantinos composed the song and Helena sings it. The song is called Zoi Mou (My Life) as the name of the series.
You can hear the song in the video below: