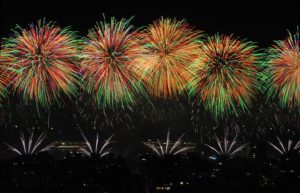 For many, the change of year is connected to ABBA's 'Happy New Year' hit. This song dates back to 1980, but is today a classic, that is hard to get around on this last day of the year.  Both the English as well as the Spanish version became hits in several countries.
ABBA doesn't need much introduction. They are well known around the world, and not only by Eurovision fans though they did win the contest in 1974 with the song Waterloo. They have released so many hits, which are still frequently played on radio, that though they split up in 1982, it is hard for younger people not to have heard of them.
One of their big hits is played a lot these days. It's of course Happy New Year with Agnetha Fältskog on lead vocals. It's from the album 'Super Trouper', that was released in November 1980. From that album the title song Super Trouper and The Winner Takes It All was released as singles. It wasn't until 1999 the song, that had the funny working title Daddy Don't Get Drunk on Christmas Day, finally came out as single.
A Spanish version of the song titled Felicidad was included on the South American version of the 'Super Trouper' album. It topped in Argentina as #5 on the chart.
Chart positions
The first single release in 1999 hit the charts in The Netherlands (#15), Norway (#20), Sweden (#27) and Germany (#75). As it was re-released in 2008, Denmark went on board as well and its placement on the charts grew. Since then, it has been on the charts in several countries each year.
We would like to wish you all a Happy New Year with the official video to this song. See you all in 2018!