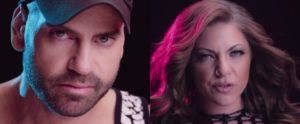 DJ Kon Cept and Georgina have kindly provided us with the song with which they hope to represent Greece at the 2017 Eurovision Song Contest. It is a modern song with contemporary sound and is fully in English.

While most countries have already planned selection methods for chosing their 2017 Eurovision representatives, things are different in Greece. Broadcaster ERT made no announcement yet, but the director of Public Relations of the broadcaster Mr. Panagiotis Tsolias has talked about a national final. If they are to follow Greek tradition, this means that ERT will ask the record companies to each submit one or more artist to compete in a national final. The winner would then represent the country at the 2017 Eurovision Song Contest.
As we have brought you exclusive last week DJ Kon Cept and Giorgina expressed their desire to participate in a potential Greek final and would be backed up by the record company Heaven. Giorgina already participated in the 2013 Greek national final where she finished second with the song Angel. Her and Kon Cept recently released a dance track named Non Stop. That song became a radio hit, and other medias are reporting that a three minutes version of this song would be used. We can however conclude that Non Stop isn't their proposed entry.
The song Kon Cept and Giorgina propose for the Greek national final
We are unfortunately not allowed to bring the title of the song, but the entry with which the two artists are hoping to win the potential Greek national final has 100% English lyrics. We had the pleasure to listen to their song and are positive. The song is rhythmic, slow hand but dance. It uses electronic music with a strong voice sampling of Giorgina' s voice. It is a modern song, with a contemporary sound that might do well with the European viewers.
Their label Heaven is positive and supports their efforts to reach the Eurovision stage in May. Kon Cept told us that they really want to do that, and will do their best to make Greek proud, if they will be chosen.
In the video below you can listen to Non Stop released a few months ago, but have in mind that this is not up for Eurovision.