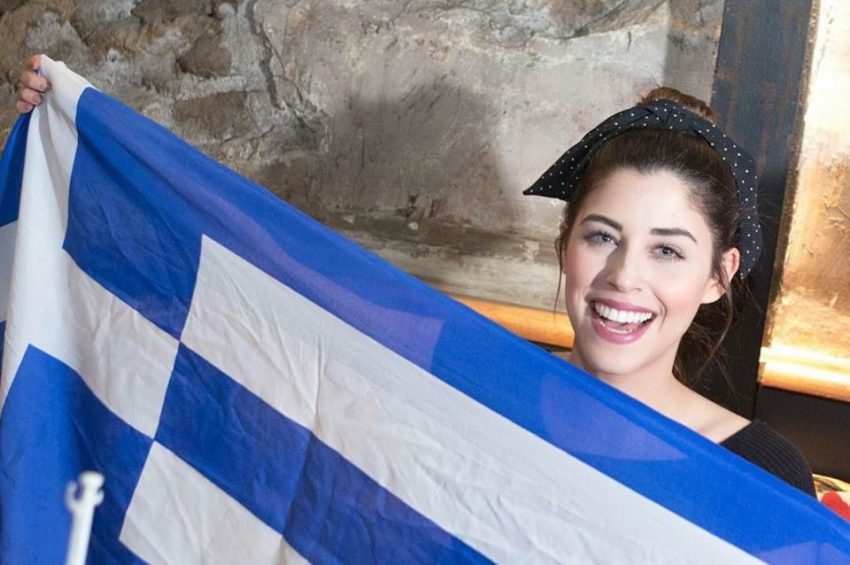 Yesterday, Demy the Greek representative for the upcoming Eurovision Song Contest, revealed a bit of the plans for the staging of her entry. She goes for the victory, but doesn't want to make herself further nervous so she isn't looking at odds.
Fans and press gathered in the early afternoon yesterday, to meet Demy. They had accepted the invitation from the fan club INFE Greece and met her at Athenian coffee bar close to the Acropolis. Here they could wish her the best of luck at the Eurovision Song Contest in Kyiv, Ukraine in May, but also to get the usual fan stuff sorted in terms of photos and autographs. EuroVisionary was present in order to get the latest news of what to expect from This Is Love.
Demy arrived on time, with a big smile as always. She first answered the questions from the TV stations and then INFE Greece gave her some presents. Among them, a Greek flag to carry with her in Kyiv.
Demy then revealed that Fokas Evangelinos who is in charge for her stage presentation in Eurovision 2017, has already found the idea of her performance. As she said, the presentation of This is Love will have a dose of romance and of course will fit with the title of the song.
She added that her goal of course is the victory but she doesn't want to think too much about it, as it could hurt her towards the contest in May. For this reason, she also doesn't look at odds. As Fokas also said, everything can change anyway with the first rehearsal.
Demy will have a busy schedule until the contest in May. She will try to promote her entry visiting various events for promotion, and she has already started rehearsals with Fokas and Alex Panayis who is her vocal coach.
In the case of Demy reading this article, we won't reveal how Greece is currently doing according to the bookmakers. But we wish her the best of luck.