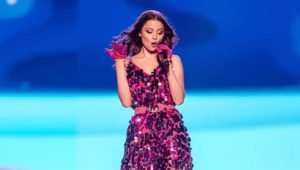 Stefania will represent Greece at the Eurovision Song Contest 2020 in Rotterdam, the Netherlands in May this year. She lives in this year's host country and has previously represented the country at Junior Eurovision.
The team behind Stefania submitted a proposal consisting of three songs, after organising a focus group, to the Greek broadcaster ERT. A committee at ERT then selected SUPERG!RL. Behind the song, we find a group of well known people, in Greek Eurovision circles known as The Dream Team.
The Dream Team comprising of Fokas Evangelinos, Dimitris Kontopoulos and Ilias Kokotos will be responsible for the whole Greek package this year. The lyrics are written by Sharon Vaugn. SUPERG!RL will be released at a later point.
SUPERG!RL is the third Greek Eurovision entry by that Dream Team. The first being Sakis Rouvas 2009 entry This Is Our Night, and the second being Demy's This Is Love from 2017, but Dimitris has written Eurovision entries for other countries as well with bigger succes such as the two Russian Eurovision entries by Sergey Lazarev: You Are The Only One From 2016 and Scream from 2019. Both of those entries finished third. In 2014, Demitris achieved a second place with Farid Mammadow and his Hold Mere representing Azerbaijan.
About Stefania, her parents and Greek politics
Stefania, full name Stefania Lyberakakis represented The Netherlands at the Junior Eurovision Song Contest, as part of the female trio Kisses. They placed 8th with the song Kisses and Dancin. She was born in 2002 in Utrecht, the Netherlands so she will feel right at home in the contest, being just 60 km away from Rotterdam. Stefania has released four singles, the last one being Turn Around last year.
For years, it has been a big political topic in Greece just where Greeks living abroad were able to vote in Greek parliament elections. Until now, it has been needed for Greeks like Stefania's parents, who are both Greek citizens, to travel to Greece in order to vote. After much debate going on, a new law finally makes Greeks abroad able to vote in the country they live in. Stefania has been mentioned as perfect symbolism of this new law.
While waiting for her Eurovision entry to be released, you can listen to Stefania's Turn Around in the video below: