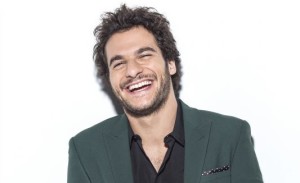 The French 2016 representative, Amir, has published his third Eurovision cover within just a few weeks. This time he threw himself over the Israeli 2015 entry Golden Boy after previously covering entries from France and Sweden.
We can't get enough of Amir and his great acoustic covers. After releasing a short clip on twitter of the 1978 French entry L'Oiseau Et L'Enfant, and a few days ago, the 2012 Eurovision Song Contest winning song Euphoria, it's now time for Israel's 2015 entry, Golden Boy.
The song, originally performed by Nadav Guedj, is here performed by Amir and released on the official France 2 YouTube channel. Although born in France, Amir moved to Israel when he was younger, so this cover is very fitting for our French singer.
Test you knowledge of Amir in our quiz below, and remember to brag about the result if you do well. Also, don't forget to check out Amir's cover of Golden Boy in the video below.
Which job did Amir have until he went all in for music? Check if you are right in this quiz about him.