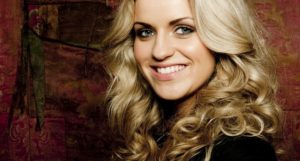 After months of rumours and speculations, Czech national broadcaster, Česká televize (ČT), has officially announced that their representative for the 2016 Eurovision Song Contest to be held in Stockholm, Sweden is Gabriela Gunčíková.
It is Gabriela Gubnčíková with her song I Stand composed by the Irish-Swedish trio known for composing many Eurovision songs in the past. Gabriela Gunčíková became famous iin the Czech Republic and in Slovakia when she came as a runner-up in the second season of the federative show Czech & Slovak Idol in 2011. After her success in the competition, she released her first debut CD called Dvojí tvář (Double face). In 2012, Gabriela played the lead role of Cleopatra in the stage musical of the same name. In 2013, Gabriela released her second CD named Celkem jiná (Quite different) and she was the author for some of the song on this second CD.
2013 was the beginning of big changes in Gabriela's life as she has started her work with famous Ken Tamplin on his project called Ken Tamplin Vocal Academy. She learned many techniques of singing with Ken and she is featured in his videos, that can be found on YouTube. During these sessions, Gabriela also recorded some original songs with this vocal coach Ken Tamplin.
Her videos started to get many views not only from Czech Republic and Europe but also from the United States. This lead to the moment when in 2014 worldwide known band Trans-Siberian Orchestra contacted Gabriela and offered her the position of a leading singer. Gabriela took part in the audition on Florida and she won. So she toured with Trans-Siberian Orchestra in the USA. They toured again in 2015 and nothing seemed to be marking "the European comeback" of Gabriela.
But in February, Gabriela put a post on her Facebook profile, revealing that she works on something special in Sweden in Stockholm and that it will change her life in the following months. Together with the first teaser from Czech Television, everything pointed towards Gabriela as the Czech representative for Eurovision Song Contest 2016 in Stockholm and this was now officially confirmed. The official release of the song and the video will come in the following days…
For me it's above all a great honour. The competition has a wonderful history and it's the only event in the world on such a scale that focuses on a musical contest between countries from all over Europe. It's like the European Cup in sports competitions, only here it's about the best song and the way it's presented.
A snippet of the song I Stand is available to listen on the French Amazon website. Click here to listen.
In the video below you can remind yourself of the Czech representatives from last year – Marta Jandová & Václav Noid Bárta, who finished 13th in the second semifinal, thus failed to qualify for the Grand final.