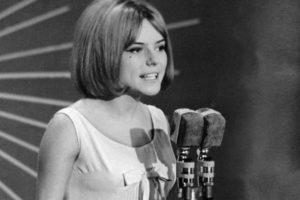 EuroVisionary are sad to learn that France Gall, the 1965 Eurovision Song Contest winner has passed away.
France represented Luxembourg in 1965 with the song Poupée de cire, poupée de son. She was the runaway winner in the contest. The song was written by Serge Gainsbourg, and is generally considered the song which modernized the contest.
France was born in Paris on October 9 1947.
France was seventeen years old when she won the contest. This was the second of five wins for Luxembourg. After the contest, France continued to record and tour in her native land.  When her success diminished there, she tried to build a career in Germany.
She has released over 20 albums and over 100 singles.
France's greatest later success came in 1987 when the single Ella, elle l'a and its parent album Babacar was a global hit.
Gall died of an infection complicated from cancer, in Neuilly-Sur-Seine at the age of 70.
Enjoy her classic Eurovision performance below.