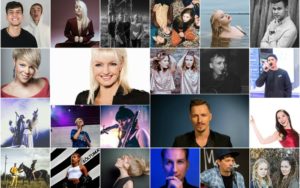 Christmas has come early for fans of Estonian music. Today Estonian Television (ETV) spent every hour, releasing one of ten entries in this years Eesti Laul 2018 show.
The first ten songs released will compete in semi final one, to be broadcast on February 10 2018. The running order of the songs is listed below.
Vajé – Laura (Walk with Me)
Iiris & Agoh – Drop That Boogie
Etnopatsy – Külm
Sibyl Vane –Thousand Words
Aden Ray – Everybody's Dressed
Tiiu x Okym x Semy – Näita oma energiat
Stig Rästa – Home
Miljardid – Pseudoprobleem
Desiree – On My Mind
Elina Netšajeva – La Forza
Many of the songs are already published on youtube, so you can listen to the songs, clicking the appropriate links. The second set of songs, which will compete on February 17 2018, will be revealed by ETV tomorrow.  From each semi final, five will proceed to the March 3 finale.
As always with the Estonian selection, there is a wide array of music to choose from. This year they have opera, pop songs, Estonian ballads and one or two usual bizarre entries. Fans can also hear for the first time, this year's entry by previous contestant, Stig Rästa. 
Estonia will be hoping to reach the finals again this year, after shockingly being left in the semi finals, with the fan favourite, Verona. Enjoy that song one more time while we await the Estonian entry for 2018.