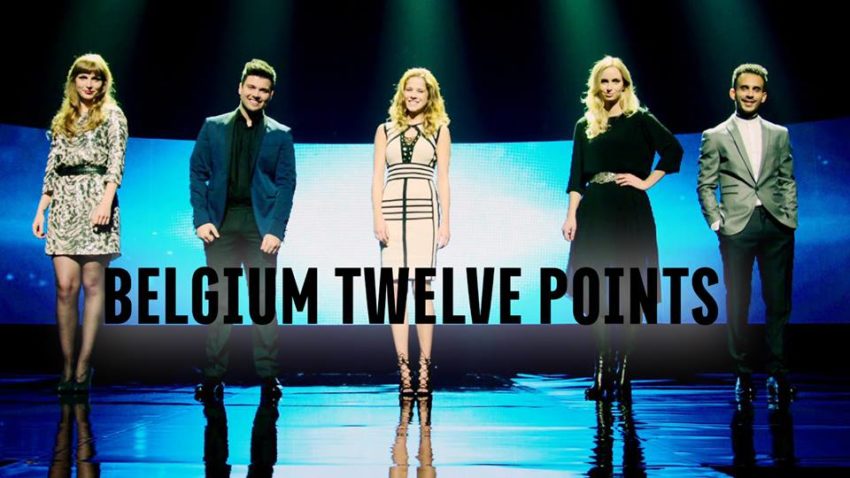 The first live show of Eurosong 2016 was held tonight in Belgium. In this heat, the five candidates performed a famous Eurovision entry to make the Belgian audience get familiar with them. Next week, they'll be singing their entries and, in the Final week, they will present their entries with the performance as it will be in Stockholm.
As we reported in our previous article, in tonight's heat the five candidates presented themselves to the Belgian public, each performing a cover of a past Eurovision entry. Alexander Rybak (Norway 2009) and Stijn Kolacny (conductor of the female choir Scala) were the two judges for the first semi-final even though no candidate would be eliminated. Peter van de Veire is the host of the show as in Eurosong 2014.
The songs the five candidates performed tonight were:
Adil Aarab, Hold Me Now (Johnny Logan)
Amaryllis Uitterlinden, Euphoria (Loreen)
Laura Tesoro, Düm Tek Tek (Hadise)
Astrid Destuyver, Everyway That I Can (Sertab Erener)
Tom Frantzis, Rhythm Inside (Loïc Nottet)
The songs
Astrid was first on stage. A video introduced her to the viewers – she comes from a musical family as her mother is a piano teacher. She gave an acoustic cover of Every Way That I Can. Stijn Kolacny praised her acoustic version but said he would love to have heard her higher notes, however he thought that, in the low notes, she did so well tonight. Alexander Rybak said that she has an angelic voice making any song sound good. Stijn would have preferred something different for her voice because he thought that she would stand a better chance at Eurovision.
Laura Tesoro was next. As Laura herself said, she wanted a change of style and that's why she decided to sing Düm Tek Tek. Alexander Rybak spoke first this time. He said that she has a child-like trait in her behaviour that's needed to win Eurovision and also a playful, stupid smile for the cameras. Stijn was also impressed with Laura and thought her cover was as good as the original song. Ready for Eurovision and why not and for a victory!
The following contestant was Adil. Adil has a passion for fashion. He designs and makes clothes himself. He chose to cover Hold Me Now by Johnny Logan but said he tried to keep Adil in it. Adil turned Hold Me Now into an R&B song, maybe for the first time in its almost 30 year-long history. Stijn thought Adil made a terrific choice and loved the R&B version he gave to Hold Me Now. He liked his voice a lot. Alexander thought his voice is amazing and that he could sing any song he wanted. Very good comments again!
Next on stage was Tom Frantzis. Tom is of Greek origin. His biggest dream is to stand on a big stage with people singing along to his song from the first note. Tom gave a soft rock version of Rhythm Inside, reminding other contestants of OneRepublic. Tom gave a relaxed tone to the song, which could substantially be attributed to his voice. Stijn smiled and loved it. He said he turned Rhythm Inside into something epic. Stijn also said that he would definitely buy a ticket to see Tom in his first concert. Alexander said that there are many artists who use music to promote themselves and artists who use themselves to present music they feel inside – Tom is of the second category. Amazing comments here!
Amaryllis was the last of the contestants but the most experienced artist of the five. She has played in several musicals and TV shows in Belgium. Euphoria by Loreen is the song she covered tonight. Alexander Rybak announced that this was the most accomplished performance of the evening. But, as that might be a compliment, he thought that she might take it as too easy a job – when you reach 100%, you need to make yourself go for 110%. Kolacny said that Amaryllis approached the very essence of music.
The show
The show started at 20.25 CET with the five contestants singing last year's winning entry Heroes. After that, Peter van de Veire, the host of Eurosong 2016, appeared on stage and explained the procedure. He interviewed all the contestants and presented the two judges: Alexander Rybak, winner for Norway at the 2009 Eurovision Song Contest, and Stijn Kolacny, conductor of the female choir Scala & Kolacny.
After a short commercial break, the five candidates presented their covers and got comments from the two judges. The show ended with Peter van de Veire telling us that, next week in Eurosong 2016, we will hear the five songs that will fight for the right to represent Belgium in Stockholm.
The Result
After all the contestants had sung their cover versions, there followed public voting through SMS texting on the question: 'Who would you send to the Eurovision Song Contest after these performances?' Amaryllis Uitterlinden won this SMS vote. The poll had no real consequence as no one was up for elimination and all contestants will have the chance to perform their songs in the next two weeks.

Belgium in the Eurovision Song Contest
Belgium has participated in the Eurovision Song Contest 57 times since making its debut as one of the seven countries at the first contest in 1956. The only countries with more appearances are Germany (59), France (58) and the United Kingdom (58). Belgium has been absent only three times in total due to low scores in the previous years that relegated them from the contest. The country has won the contest once, in 1986, when Sandra Kim won with her song J' aime La Vie in Bergen, Norway. Sandra is the youngest winner in the contest's history as, despite the fact she claimed she was 15 years old when she won, she was actually only 13, something that was against the rules; EBU nevertheless allowed Kim to keep the victory when her secret was revealed. Currently, the minimum age for participation is 16 years of age and thus Sandra Kim will remain the youngest winner unless the age limit is lowered. By winning in 1986, Belgium became the last of the French-speaking countries to win the contest.
Belgium has two national broadcasters of the contest, Flemish broadcaster (VRT) and Wallonian broadcaster (RTBF). The two broadcasters alternate organizing the entry selection for the Eurovision Song Contest each year. VRT normally hosts a national final, Eurosong, when selecting their entries for Eurovision, while RTBF holds an internal selection process for its entries.
Last year, RTBF chose a The Voice Belgique participant, Loïc Nottet, who had come second in the 2014 edition of the talent show. He represented Belgium with his song Rhythm Inside in the first semi-final of the competition. He managed to qualify and came second with 149 points. In the final, Loïc finished fourth with 217 points. It was the best result for Belgium since 2003 and it was the highest amount of points ever awarded to Belgium. It was also the first time ever that an entry that finished fourth scored over 200 points.
Below you can watch Loïc Nottet performing last year's Belgian's entry, Rhythm Inside: