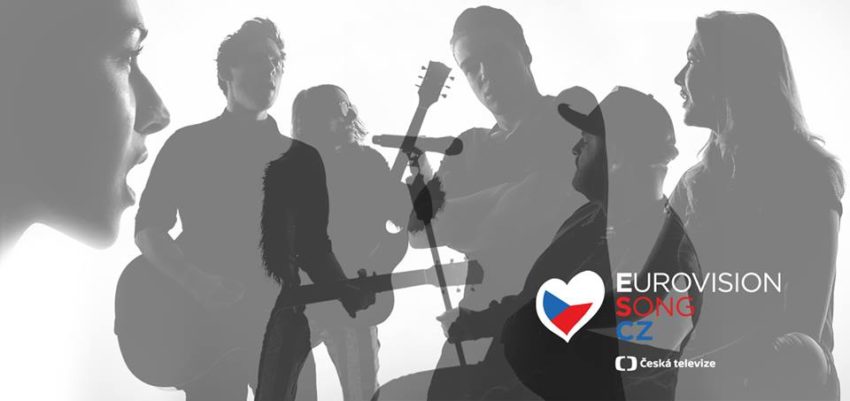 Five songs about love in various shapes, and one rock song which encourages you to get back up on your feet. We talked to the six Czech finalists to find out why exactly we should listen to their entry. One of these six songs will represent the Czech republic at the 2018 Eurovision Song Contest.

Debbi, Eva Burešová, Mikolas Josef, Pavel Callta, Eddie Stoilow and Doctor Victor. Those are the six artists fighting in the online national final, Eurovision Song CZ, for the ticket to Lisbon. Two solo female artists, two solo male artists and two bands. That is equally divided just as with the music genres. We have a dark ballad, a rock band, fresh funky song, a guitar song, Swedish-sound modern pop song and an American style band. Let's look at the songs individually.
Each song caption is a link to the song.
Fly is a dark ballad composed by Václav Noid Bárta who represented the Czech Republic in 2015 in a duet with Marta Jandová. After Eurovision 2015, he expressed his wish to write another song for Eurovision, having met all the other artists and people behind Eurovision. This year he has the chance to prove if he can do better than last time.
The song is by Václav noid Bárta and it is about love, because it is a theme that everyone of us experienced. It doesn't matter if it is a love to a partner or to your own child. It says that everybody once got into the point where he got his heart ripped out of his body and don't know what to do next. And he wasn't able to name it. What happened, why does it happen and how to get out of it. But the song is not negative, it is positive and about the hope that one day everything will be okay again.

Eva Burešová about the song Fly
As it did not break any of the rules set by the broadcaster, Mikolas already performed Lie To Me live during Czech Blog Awards and released his own music video for it. Already before the announcement of the finalists, this song became a hot fan favourite, not only among the Czech people but also foreign Eurovision fans. Lie To Me was written by Mikolas himself and is a song about the real situation from Mikolas past love life, as he explained during the press conference.
From the moment when I played my music on the streets, Eurovision was something I wished for. My song is also about love, but in a different direction than the other songs. It is about my ex-girlfriend who dumped me for my best friend. I decided I will not cry about it and I will do it in a different way. So in the song I told her what I wanted to tell, and I am glad it ended the way it did.

Mikolas Josef about the song Lie To Me.
Not only at Eurovision, but in general a lot of songs are about love. That's also the case of We Rule This World and as the band members told at the press conference, it was not intended for Eurovision in the beginning. Their lead singer Honza Žampa was, unfortunately, missing during the press conference as he was on a trip to South-Eastern Asia so he only sent a video greeting to the journalists.
"The song is about love and about getting together in a non-kitch way. During the last year, there were many different bad things that happened around the world and our song got the atmosphere from that – a little bit melancholic, maybe also a ceremonial. It is not just en egoistic pop song like in the radios today.

Eddie Stoilow about We Rule This World.
Not to be confused with Reidun Saether's song of the same name, this High On Love is something completely different. Composed by Greig Watts and his production team in DWB, the same team who penned My Turn for Martina Bárta last year. That makes High On Love the only foreign song in the Czech final.
Debbi is glad to work with the team again. On her previous albums she already got few songs by Greig, e.g. La La on her debut album or You Take Me There from her second CD. High On Love is of course about love again, but it has a foreign sound to it.
The theme of the song is already in its title. I think that almost every song in the world is about hapiness, love or sorrow. And it is true that the love has the presence, it is everywhere. It is a beautiful feeling that everybody experienced and the song evoke that love is somehow the strongest drug of all. And I think it is beautiful to experiment with it. Love is a strong emotion and the song wakes this in me and I hope, in you too.

Debbi about High On Love.
Pavel usually always writes his songs on his own and that is also the case of Never Forget. Mostly, Pavel sings in Czech, but for some of the songs, he makes an English version. Just as with Never Forget. In Czech, the song is called Nezapomeň and surprisingly was performed during his concert in Summer 2017 and as such did initially break the rules of the Eurovision Song Contest. The song however went through a revamp, and not only lyric transformation, and as such should be cleared now.
Never Forget was written already a year and a half ago in Czech and it is very emotional because it reflects my previous relationship that lasted for a many years. It was a high school love and we were splitting up and getting back together, and that is what the song is about. Even if we don't want to, we have to move on because the relationship is already dried out. We stayed friends and I sing about my feelings, that I will never forget the beautiful moments we spent together. It is a romantic song, even if somebody may take it as a cliché.

Pavel Callta about Never Forget.
Mikolas, Eddie Stoilow and Pavel all wrote their songs themseves. This approach is also used by this new rock group Doctor Victor. From StandUP we can expect a rock staging and a lot of guitar solos. Is it the way the Czech Republic should head in 2018? StandUP is the only out of the six final entries that is not about love, and as such it stands out in more than one way.
Our song was recorded when I (Victor) lived in our rehearsal studio and the sound is authentic. What you hear on the track is what you get. StandUP is manily for the people who feel drowned and then need to stand up and get on their feet again.

Doctor Victor about StandUp.
In the recap video below you can listen to all the six songs. Who has what it takes to bring the Czech Republic into that final of the Eurovision Song Contest they have only reached once?