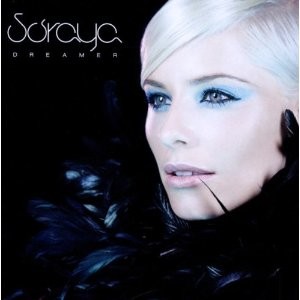 After working with Antoine Clamaran and Kate Ryan and entering several European charts, Soraya is back with a new album, a new record company, a new look, a new energy and a new sound. This woman is unstoppable and she never ceases to amaze us.
Dreamer is her fifth album and the third one in English. She definitely sounds like an electro-pop music star and she shows no fear at this new stage in her career. Soraya is very involved in the most conceptual and famous dance night clubs in Spain and she had gained the Spanish dance music queen title.
Her new work, which takes the concept "dance" to the limit, opens the door to the best and most cutting edge DJs and producers worldwide like Bedük or Wally López. This is a great album to play at clubs and parties where you will not find ballads, but you will find eleven disco hits.
Dreamer is a great introductory song and a good first single. The rhythm is very catchy and I think it is an instantly likeable song. It has a joyful feeling and energy, with a positive lyrical message.
Give You Up (feat Juan Magan) is a techno song but it doesn't have a lot of progressive elements. Strong bass line, good builds and good minimal touch.
Ticking All The Boxes is a tremendous song, from the beginning to the end. This song can be associated with a specific style of European dance music, addictive and dynamic although it gets a little bit repetitive.
I Got You is the most melodic song in the album. It is more influenced by pop song structure than pure dance music. The pace is accelerated more and more with the percussions. The chorus is very danceable, and it is bound to have you singing it over and over. Pay attention to the unexpected gospel choir. Great skill!
You've Got The Music no doubt will be a hit. As a whole it sounds like a hymn.
Also, we can find a good version of Electric Girl, very similar to the original one. The song starts with an "are you ready?" followed by an excellent synthesizer solo. It is a pure electronic song but a little bit different than many of the other songs on the album. Bedük's success with this song in many European countries proves that it is a hit. I was soon bobbing my head along to its catchy pace.
Live Your Dreams is a success in France and, thanks to this song, Soraya is making strong headway in Europe.
On Dreamer we can listen to other songs like Failing Me (Runaway) written by Lucie Silvas, Twilight by Hanne Sörvaag, who has an extensive experience in the Eurovision Song Contest, In My Blood with an awesome robotic-sounding voice effect and Close To Me.
The track listing is as follows:
1. Dreamer
2. Failing Me (Runaway)
3. Give You Up (feat Juan Magan)
4. Ticking All The Boxes
5. I Got You
6. You've Got The Music
7. Electric Girl (feat Bedük)
8. Twilight
9. Live Your Dreams (feat Antoine Clamaran)
10. In My Blood
11. Close To Me (feat Wally López)
The more I listen, the more I like the whole album. It is a consistent work, brave and very different. Her intention is to make us to have a good time being the life and soul of the party.
Good sound, great voice and nice lyrics. What more do you want?