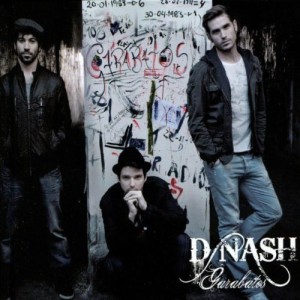 The introspective fragility and the poetic lyricism, which made their previous albums such a compulsive listening experience, are both again very much in evidence. Basty, Javi and Mikel have made a pleasing transition with their trademark harmonies intact and a sound much more relaxed and confident.
It has been almost five years since we met them in the 2007 Eurovision Song Contest and the boys are now trying to move into a style more fitting with their growth as adult musicians. On this new album the group have also consolidated and expanded the range of their sound.
Garabatos is lyrically and musically largely melancholic in tone, but at the same time, it is evenly balanced with both sad and hopeful songs, up-tempo and downbeat tunes, eight of them composed by themselves, with all three members taking turns at lead vocals and mixing perfectly together to create that quintessential moment, beautifully produced and sung and with choruses that, expectedly, make them stick in the mind.
You can always rely on D'Nash for romantic lyrics and this album proves no exception right from the start. En Medio De La Calle has became the first single from fifteen new songs from those that go directly to the soul and heart. All of us can relate to such a story when time goes by, but the flame of love or the pain is still there. This song was already included on their previous album called Todo Va A Cambiar. A strong and emotional lyrics with a nice melody that seeks only to reconquer the audience.
Among the songs composed by themselves, there is a song that really touched my heart: La Soledad is not a song that you should listen if you are depressed. It was composed by themselves and talks about a very common theme that is loneliness. A very sad, but very real-life romantic song.
Another of their own songs, Decir Adiós, is such a catchy up tempo song written by themselves with a very strong chorus. They really show some amazing, strong vocals and an ability to switch within their range flawlessly on this one. The song flows really well and is so easy to get into, it is catchy from start to finish but it is the chorus that will really be stuck in your head for a long time after the song finishes. It talks about how do you say goodbye when you don't want to.
Garabatos, the album's title track was also written by them like Me Rindo that is easily the most romantic song on the album. I like the pure simplicity and the honesty in it. It is an invitation for people to be honest and open with their emotions. The bittersweet Sin Ti, which has a mournful sound, tells of a relationship that begins promisingly, but which quickly and acrimoniously collapses. It was recorded in one take which helps capture the essence of the song and the melody played primarily by a piano. Not coincidentally, with the song Gritando is the one time that the pace rises beyond a controlled canter. The chorus is very strong, emotional and catchy with lovely harmonies, a funky beat and very strong vocals and lyrics.
Abrázame, one of the three songs that Lucía Pérez performed in the national final of Destino Eurovisión and also included in her album Cruzo Los Dedos, has also captivated the boys of D'Nash. It is a melodic song composed by Antonio Sánchez-Ohlsson and Thomas G:son that talks about the importance of a big and magical protective hug. They have made some new arrangements but it sounds quite similar to the version we heard in the Spanish selection process.
Esa Mitad De Ti is a beautiful song in both sound and concept. This simple song composed by themselves starts with the sound of someone winding a music box, then recreates with the piano the music produced by such a box with amazing authenticity.
No Te Vas A Reir De Mi is a song that gives wings to dreams lighting the way from despair toward the bright sun of possibility. They lift their voices to transform a song of lamentation into a cry of liberation. It is a song that the boys composed some time ago and it has been already recorded by artists such as Hector Rojo in a version more closely to rumba than pop. In this new version, the beat and the rhythm that starts with a violin melody are fantastic and the song gained even more.
Volver A Empezar is another epic ballad written by themselves with some lovely reflective lyrics about second chances at love. In contrast, however, No Quiero Verte starts like a ballad but becomes a melodic rock track towards the end which is overall pretty interesting. It is quite a cool tune with a thought provoking message and great musicianship.
Lloras is one of those slow-dance ballads that just tugs at your heartstrings and inspires quiet chills of emotion. It is a heartbreaking song that confirms the guys' vocal talents.
Hermosa Violencia is a glorious, up-tempo love song and in Absurda Maniquí they are saying that their heart is not like a little piece of paper, it is not something you can just pick up and throw away. Emotions are real, people are real and we all get caught up and we forget that the small things are really important.
Don't think that these beautiful songs are the only treasure you will find on this new album because the CD also includes a 45 minutes documentary called Esa Mitad De Mi. This short movie begins with they three explaining what music means for them and we can see how their evolution since the group was formed, their way through the Eurovision Song Contest, all tours, how they composed the songs for this new album and how they recorded it.
What we have here is a wonderful album with all the trimmings: three harmonious vocals, slow dance songs, dance beats… Now, what makes D'Nash different is that they have pure singing talent. Listen to their harmonies. Listen to their songs. They all can sing lead and they all can do back-ups. Talent, all talent, on a stunning album. Garabatos is passionate, evocative, poignant, funny, simply a great record and much more versatile than its predecessors and I think D'Nash will be around for a while. Just listen to them!