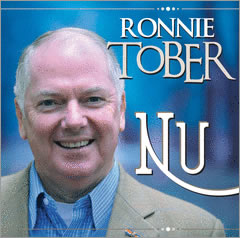 Dutch singer Ronnie Tober's latest album NU, is a nice collection of international and Dutch hit songs. The album contains 11 songs of which three are medleys from Ronnie Tober himself, Frank Sinatra and Dean Martin. All songs are performed in an easylistening bigband style, and the total running time is 41 minutes.
Ronnie Tober opens up with the 1970's disco hit I Am What I Am, originally sung by Gloria Gaynor, but singing it in Dutch, Ik Ben Wie Ik Ben, and his version points out clearly which way we are going. But let me be frank, I like the way he does that song.
Further down the track list, when Ronnie Tober gives his Frank Sinartra medley, my opinion is totally different. A song like My Way has already been done to perfection by Sinatra and Elvis Presley, and Tober is not near that, not to mention his Dean Martin medley, it's just job done. Ronnie, I don't think you have Italian blood in your veins.
It's not as if Ronnie Tober can't sing, or the band can't play, they can, I just lack some enthusiasm when he gives his versions of songs like Smile and We`ll Meet Again. Two songs so full of emotion and comfort. And it's even worse when he sings the "anthem" of Liverpool, You`ll Never Walk Alone, there is absolutely no feeling of unity in his, to my ears, sterile voice.
Some people say, "You can`t sing in Dutch", I don't agree. Because I find that the highlights of the album NU, are when Ronnie Tober, in track 6, gives his own hitmedley and on track 9 sings Alleen in his native language. In those songs you can actually hear some warmth in his voice, and my suggestion to him is "sing in Dutch".
Even though I have criticised the album, it is, all in all, not a bad album. Confused? Don't be, it's just so difficult to do what Ronnie Tober has done, taking world known classics and turning them into his own, but he did, and he didn't break his neck doing it.