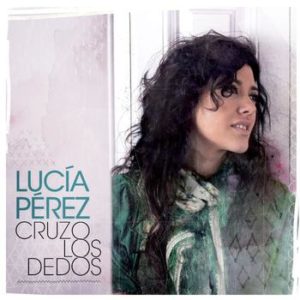 Talent and varied inspirations. This is the most fitting sentence to describe Cruzo Los Dedos (I Cross My Fingers), the fifth studio album from Lucía Pérez. Catchy, fun and beautiful melodies and rhythms with deep lyrics. Lucía as always, is very passionate in her interpretations.
Cruzo Los Dedos is more than a compilation of the best songs from Lucía's previous albums. All the songs are well composed and the lyrics are in perfect harmony with the music and the sequence of each song engulfs all your senses. Each track on the album has a depth of meaning to it which is Lucía's hallmark. She sings from the heart and the emotion and she tells you how the words have personal meaning.
The most known track on the album is probably the album's opener Que Me Quiten Lo Bailao. It is the same version that we will hear in Düsseldorf which combines Latin percussion and folk sound with violins, flutes, bagpipes, acoustic guitars and ukulele.
A Ver Si Aprendo is an up-tempo song where Lucía puts forward a wonderful account of one who is looking for a better time of life and a chance to learn from mistakes made in life. At the end of the song, she sings in a whisper that makes you want to listen more closely.
Abrázame, one of the three songs that Lucía performed in the national final of Destino Eurovisión and her favourite one, is the third track in this new album. It is a melodic song with new arrangements quite similar to those we heard in the Spanish selection process. It is a great ballad that talks about the importance of a big and magical protective hug.
This album has a great diversity of musical styles and No Sabré Darte Las Gracias is a good example of this. This song has such a Mexican country style with a romantic sound and sweet tones. It talks about how to say thank you to someone who is always encouraging you to keep going. Lucía sings this song as a thank you to her family who have supported her musical career for many years and of course her producer and writer of most of the songs on this album, Chema Purón, who has been always supporting her.
Perdida En Tu Equipaje is a beautiful song which tells of the bond between a man and a woman and that special look shared between them. A real journey of emotion in this tune, those of us who have been lucky enough to find this kind of intensity of emotion in a relationship will identify with the words and those who have not will be left yearning to capture the feeling.

La Página 10 is a jazz song with an intelligent and witty lyric. The catchy verses describe some feelings that everyone feels when you are in love and you are always thinking about someone and it is impossible to stay focused on other things.
Adios Rios, Adios Fontes is a folk song that Lucía sings in Galician language as an emotional tribute to her homeland. This is a song inspired by the poem written by Rosalía de Castro that reminds us that time moved slower back years ago. It is a goodbye to her homeland having a good reason to look ahead and every reason to reflect on the present and treasure the past.
This album also include a new version of the romantic ballad Este Amor Es Tuyo with which the popular singer Gisela (Andorran representative in the 2008 Eurovision Song Contest) won the 44th edition of the 2003 Viña del Mar Festival in Chile where Lucía was also competing.
The track listing is as follows:
1. Que Me Quiten Lo Bailao
2. A Ver Si Aprendo
3. Abrázame
4. No Sabré Darte Las Gracias
5. Quien Te Crees Que Eres
6. Este Amor Es Tuyo
7. Tu Silencio
8. Cruzo Los Dedos
9. La Página 10
10. Perdida En Tu Equipaje
11. Probablemente
12. Adios Ríos, Adios Fontes
Cruzo Los Dedos maybe is not the kind of music you will want to listen to at a party on a Saturday night but it is perfect if you are looking for the right songs to ponder life's twists on a rainy Sunday.
In this album, Lucía speaks with honesty and clarity about the mysteries of love and fate. Her voice is pure and graceful and her viewpoint is always optimistic. Combined, the result is a dynamic, human album, one that is easy to fall in love with. Highly recommended!