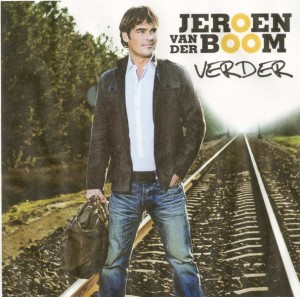 Jeroen van der Boom, one third of the Dutch representatives at the 2009 Eurovision Song Contest, has released a new solo album. Among the 14 songs, in his usual soft rock style, we find a Dutch version of the Danish entry, Believe Again.
The Danish entry for this year's Eurovision Song Contest fits Jeroen's voice perfectly – and the Dutch version works. It doesn't sound awkward at all for non Dutch speakers. The title of the song Weer Geloven also literally translates to Again Believe.
If you like this kind of music this album is highly recommended. All 14 songs are in Dutch, but it is absolutely not needed to understand the language in order to enjoy the songs. The music and his voice can easily stand alone – and believe me, anyone with knowledge of English and perhaps a bit of German or any of the Scandinavian languages will be surprised at just how much Dutch they can actually pick up on!
It might not be music which immediately makes you stand up and jump around and sing along, but if you want some music while working, driving or even eating a romantic dinner this is perfect.  The soft rock songs like Dat Weet Je, Schreeuw In De Woestijn, Verder and Eeuwig Wachten, 10 over 10 and of course Weer Geloven stand out as the best ones for me. A few ballads have found their way onto the CD as well, of those Hoe Lang Nog is clearly the best with the violin in the background. Jeroen van der Boom got what it takes to make it outside the Netherlands – let's hope for some more songs in English to help him along the way.
 
When Jeroen van der Boom joined De Toppers shortly before the band started its preparations for the Eurovision Song Contest in Moscow it came as a surprise to many as he didn't fit with the image the popular trio had. Jeroen prefers jeans and a t-shirt over glitter suits and his solo music is more soft rock than the catchy up tempo pop songs De Toppers are known for. For him accessories are a leather belt and sunglasses – and not jackets with glimpsing lights or an over done Make-up.  With his new album titled Verder he is back being himself – and it suits him.