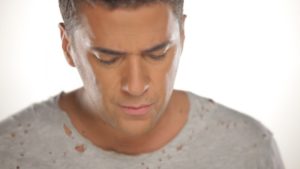 Željko Joksimovic has released a new single and video clip.  The song is called Ludak kao ja and is composed by Leontina Vukomanovic.
Željko Joksimovic is one of the most popular and respected singers and composers in the Balkans and has competed at the Eurovision Song Contest twice as a performer for Serbia – Lane Moje (second place in ESC 2004) and Nije Ljubav stvar (third place in ESC 2012).  He also composed the 2008 Serbian entry for Jelena Tomaševic – Oro and finished in sixth place and the entry for Bosnia-Herzegovina in 2006 for Hari Mata Hari, Lejla, that finished in third place.
The new single, Ludak kao ja (A Madman Like Me), was the first collaboration between Željko and Leontina for eight years. Amongst their compostions was Lane moje. The song is an dance song that really suits Željko's smooth vocals. This should be a massive hit on the dance floors all around the Balkans this spring and summer.
You can hear more of Željko's music on his official You Tube channel.
The video for Ludak kao ja can be seen below.
You may also like to read: