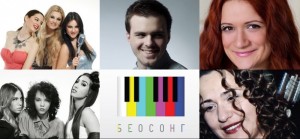 Tonight, fifteen acts performed at the semi-final of Beosong. At the end, ten of them were eliminated. The remaining five are going to compete against each other tomorrow about who should fly the Serbian flag in Malmö in May. 
The Songs
1: Moje 3 (Mirna Radulović, Nevena Božović, Sara Jovanović) – Ljubav Je Svuda
One of the three girls was dressed up in red (with horn-like hair accessories), one in white, and one in golden. They were apparently representing angel, demon and a neutral being. They did a quite predictable Europop number.
2: Igor Terzija – Moja Svetlosti

It was an emotional ballad, but it could have been improved with a better vocal performance. The singer was accompanied by a piano player, a guitar player, two back vocalists and a dancer. The dance was a modified and modernized way of ballet, and looked good on stage.

3: Blagoslov – Maja Nikolić
The singer was alone on stage, with an ordinary long dress and simple hairstyle. This modest appearance was probably on purpose, to make the audience focus on how the act sounded, rather than how she looked.
4: Kal – Usne Kadifa
It was probably the act of the night with the widest range of musical genres. Tango rhythms and Meditterranean melodies were accompanied by a cello, an accordion, a guitar, and two dancers, who managed to fill every place on the stage.

5: Nenad Milosavljević
– Ruža Od Baruta
The singer was an old man playing the guitar on a chair with a totally John Lennon-alike style. Four dancers behind him were all suited up half in black and half in white, with white make-up all on their faces.
6: Saška Janković
– Duga U Tvojim Očima
The song started with a powerful cello intro, and the rest of the song continued almost as strong. The song was not an easy one to sing, it was full of ups and downs, but the singer successfully nailed it, and showed everyone how far her voice can reach.

7: Dušan Zrnić
– Što Prolazim
It was a ballad, like most of tonight's performing acts. The lead artist was accompanied by drums, piano, guitar, and two back vocalists.

8: Maja Odžaklijevska – Anđeo S Neba
Maja was sitting on a chair at the beginning of the song. She was alone on stage, and her way of sitting when combined with her gestures, she looked like she was telling a story to the audience.
9: Dušan Svilar – Spas
If you're a fan of ethnic stuff, you're in the right place. This song is ornamented with drum, caval, and guitar, but don't expect anything like Lane Moje. This song was one of the rare uptempo songs of tonight's line up. Hajde, hajde! You can't sit still while listening to this.
10: SKY's – Magija
This song may be used to define teenage pop. Three girls were wearing leather dressing and trying to enrich the performance with barely synchronized dance moves.

11: Ksenija Kočetova
– Svetla Pale Se Za Nas

There was a huge dice-shaped box, and the performance was mostly held inside it. A few dancers accompanied the singer, but I don't know the exact number of them, as they continuously appeared and disappeared inside the dice!

12: Marija Mihajlović – Halo
Halo was the jazzy tune of tonight's show. Marija was sitting on a chair next to the piano, in a black outfit. It would be fair to say that vocal abilities were on the foreground in this performance.
13: Aleksandra Dabić – Savršen Kraj
There were three girls on stage; the lead singer, piano player, and violin player. The visual effects on the screen resembled water waves, and the song was also smooth in tune with the background.
14: Kristina Savić – Za Tebe Živim
The singer completely looked like she was from 17th century, with her dress, hair, and gloves. It was a low-tempo song until it met rock elements in the second half of it.

15: Žarko Stepanov – Tren
The black-dressed singer was accompanied by four white-covered dancers. It was another slow song of the night.
The Show
The voting started after all of the songs had been performed, and the viewers made their mind up in 10 minutes time. The interval act was like a popurri, different styles of music were mixed one after another. It started with an acapella performance. After that, a breakdance show was performed, and then Balkan tunes came forth. Finally, electroguitar joined the accordion melodies and the interval act ended with rock beats.
Meanwhile, the show found reaction on Twitter, and #Beosong hashtag was placed on the worldwide 'trending topics' list.
The Results
The five finalists were announced in random order:

Saška Janković – Duga U Tvojim Očima

SKY's – Magija

Dušan Svilar – Spas

Marija Mihajlović – Halo
Moje 3 – Ljubav Je Svuda

These five acts are going to compete against each other in order to fly the Serbian flag in Malmö. The final show will be held Sunday evening at 21:00 CET.
You may also want to read: