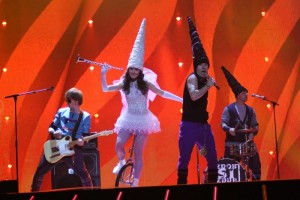 With an extremely busy and complicated staging of their first rehearsal, it will be interesting to see today if Zdob si Zdub make any  alterations to their quirky stage show. Ditching the drum banging grandmother in favour of a tutu clad cyclist, things don't get much quirkier than this!
xxx Is there some significance behind the stange pointed hats they are wearing on stage? The choice of outfit is bizarre, to say the least. But Zdob Si Zdub are far from being conformist – they could either be perceived as a breath of fresh air on stage after the tranquil Ukraine or they may be dismissed as being barking mad.
The Moldovan act took to the stage today, and their performance was just as eclectic as their first rehearsal. No changes have been made to the imagery on the backdrop opting to keep the rotating toy soldiers, making for dizzying viewing. Flashing orange and green rays also light up the stage, with green being the main colour. Strobes are still used. The first run through was interrupted due to unspecified technical issues. These were resolved after much toing and froing and can only be attributed to an overcomplicated
staging.
The latticework screen has done a disppearing act, two huge amps are on stage as well as the drum kit.
The performance comes across as frantic, with the unicyclist on stage merely adding to the chaotic feel. The show is all over the place, with too much happening at the same time which proves something of a distraction in the hall unsure of how this will come across on screen. The vocals were at times shouted, which didn't exactly make for easy listening.
In my view
During 30 min time slot, the Moldovan number was only performed 2,5 times – they have a lot of work to do to get this anywhere near up to scratch if it's to stand the slightest chance of qualifying.

The opinion expressed in "In my view" are those of the author and are not necessarily the one of EuroVisionary.com.