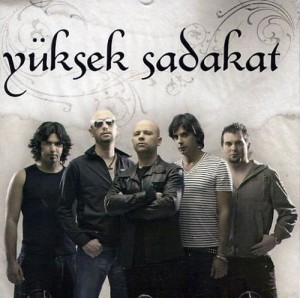 Yüksek Sadakat is the choice of Turkish broadcaster, TRT to represent the country in Dusseldorf. The song will be presented on Friday 25th February.
TRT has been choosing Turkish representatives internally since 2003 (except 2005 where another national final was held) when the first victory recorded by Sertab Erener. This year, another boyband, Yüksek Sadakat, was announced to represent Turkey at the Eurovision Song Contest in the first minutes of 2011. You can read more about Yüksek Sadakat here.
According to the procedure, Yüksek Sadakat presented three acts to special committee of the Music Department in TRT. One of those three acts was chosen to represent Turkey at the Eurovision Song Contest in Düsseldorf in May.
Recently, Yüksek Sadakat announced that the song was ready to be presented by the group and this presentation will take place in Tepebaşı Studios, İstanbul on Friday (25th February). The show will be aired by TRT's main channel TRT1 and TRT Music, it will also be able to watch via internet or satellite. It's expected the show will start at 18.30 CET.
Web Tv: TRT1 (Click on the channel)
TRT Music (Click on the channel)
The group has also declared that the song, which is up-tempo, will be performed in English both in the presentation on Friday and in Düsseldorf.