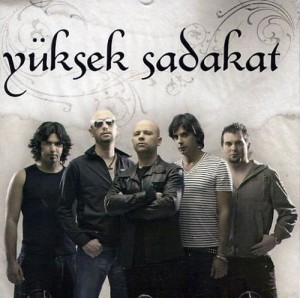 Turkish national broadcaster TRT announced their representative name in Düsseldorf at this new year's eve. Another rock boy-band Yüksek Sadakat will be the one who will be in Düsseldorf.
We announced before that TRT would announce the Turkish participant for the 2011 Eurovision Song Contest in Dusseldorf in January. In the first moments of 2011 (local timezone), TRT decided to let everyone know their representatives: Yüksek Sadakat.
Turkish rock band Yüksek Sadakat was founded in 1997 by bas guitarist and lyricist Kutlu Özmakinacı. The members of the group are:
Kutlu Özmakinaci – lyrician & bas guitar
Kenan Vural – vocalist
Serdar Özgen – guitar
Alpay Şant – Drum
Uğur Onatkurt – Keyboard
They first became popular in 2006 with their album by the same name of the group Yüksek Sadakat. They have won the Golden Butterfly TV Award in 2005 for best act and the İstanbul FM IFA award in 2006. You can read more about the group on their official website: yukseksadakat.com.  
Hadise and MaNga waved the Turkish flag at the contest succesfully the last two years. As it will be remembered Hadise achieved 4th place with her belly dancing song Düm Tek Tek in 2009 and MaNga, who also won MTV's Best European Act, award achieved a respectable 2nd place with their song We Could Be the Same, after winning their Semi-Final.
You can watch Yüksek Sadakat's most popular videoclips Belki Üstümüzden Bir Kuş Geçer, Aklımın İplerini Saldım, Döneceksin Diye Söz Ver below.
In my view
In my opinion, that is really harsh decision for Eurovision stage where more popular names participate in. Yüksek Sadakat doesn't have a deep music life. After popular names from Turkey such as Kenan Doğulu, Hadise and MaNga succeed really good result, Yüksek Sadakat doesn't seem like they might achieve this again. We will see what future brings.

The opinion expressed in "In my view" are those of the author and are not necessarily the one of EuroVisionary.com.