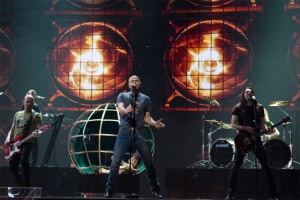 With an impressive second placing to follow up, Turkey have no intentions of changing their succesful formula – after all, if it ain't broke, why fix it?
Turkey's choice of outfit for the reherasal today was a casual affair, with jeans and t-shirts being the order of the day, and keeping in line with the rock star image. The band look perfectly at home on stage, and issues after their first rehearsal concerning their positions on stage seem to have been resolved. Yüksek Sadakat have a sound that transmits well from the stage. Their performance is competent, punchy and gritty and very efficient, doing exactly what it says on the tin, not unsimilar to their entry from last year but somehow seeming less constructed and more natural.
The staging is dynamic, streamlined keeping in line with the performance. The lead singer looks every part the rock star, bounding onto the stage from steps at the rear of the stage, strutting around confidently. The backdrop features flashing stadium lights featuring on the backdrop, in shades of silver and gold, contrasting nicely with the red strips lighting up the  stage from below and above with pulsating white rays, echoing the colours of the Turkish flag.
Following the first run through there were discussions surrounding the positioning of loudspeakers which ate into valuable rehearsal time. The keyboardist and drummer have the same positions as in the first rehearsal, with the huge spherical cage still a focal point on stage. The dancer inside isn't wearing her geisha make up today, yet still seems totally incongruous with the rest of the act and no matter how hard the lead singer tries, the element just doesn't fit with the rest of the stage show.
In my view
All in all a credible, convincing second rehearsal with no technical glitches to report of and which comes across fabulously on stage as well as on screen and which should see Turkey qualify with ease this year also.

The opinion expressed in "In my view" are those of the author and are not necessarily the one of EuroVisionary.com.