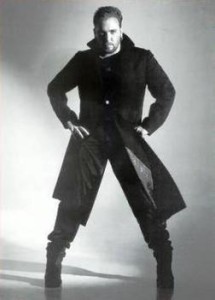 First he said OPA and then the music started. Giorgos was the 5th today to participate in the first rehearsals. And it went well.
The stage started with a flash, hearing the OPA, seeing men in white clothes. There was an emphasis on spotlights. Vocally it was really good, and the performance was very interesting and powerful. The dancers moved around the singer, dancing the similar dance to the music video and national final.
There are six performers, singer Giorgos Alkaios, four dancers, and the guy who plays the national Greek instrument. The guy with the instrument, steps across the top of the stage during the song to play it. The dancers have drums which they pick up during in song, and move them so the Giorgos can hit them,
Everyone in the arena was dancing and clapping their hands during the song, and it made a very good impression it left. It comes across very well especially on the screen where you will see everyone in white costumes, which makes them more visibly at the stage, including the good lights.