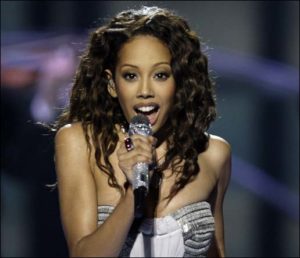 The British press and people are traditionally cynical about the Eurovision Song Contest. Lets see if the involvement of Andrew Lloyd Webber and the United Kingdom finishing 6th have changed anything.
The Mail on Sunday was positive "It wasn't quite her time, but Jade Ewen did her country proud when she earned the UK fifth place in the 54th Eurovision Song Contest 2009."
"The Londoner's result was a significant improvement on last year's bottom-of-the-league rating, succeeding in reversing the UK's bad run of results in the contest with It's My Time by Lord Andrew Lloyd-Webber and Diane Warren.
It raises hopes that the landscape of Eurovision's voting process has been changed – with votes being cast on acts' musical merit instead of for tactical reasons."
The Sunday Telegraph seemed to approve of Graham Norton's commentary "Graham Norton was making his debut as commentator for the BBC, replacing Sir Terry Wogan, who bowed out last year. Norton's tongue-in-cheek style brought a fresh burst of humour as he added his own observations and insight to the on-stage entertainment."
The Sunday Mirror is also satisfied, "Britain finished a credible fifth in the Eurovision Song Contest last night, banishing fears of being permanently shut out of the competition. Londoner Jade Ewen's result was a big improvement on the UK's place at the bottom of the table last year, but the young singer's efforts failed to secure enough points to compete with record-breaking winner Norway. Andrew Lloyd Webber's involvement by co-writing the entry song was not enough to achieve top marks with the introduction of a new voting system – but it was the best British finish since 2002 when Jessica Garlick came third." 
The News of the World continued the new, less negative points of view, "THE UK's Jade Ewen restored the nation's pride last night by singing her way to fifth place in the Eurovision Song Contest-our best result in seven years. Jade, chosen in reality TV show Your Country Needs You, gave a stunning performance of It's My Time, while mentor and song composer Lord Andrew Lloyd Webber played piano."
So it seems that the BBC's changes have increased interest in the contest in a more positive way. How can they continue this next year. If you haveany ideas, please send them to us.