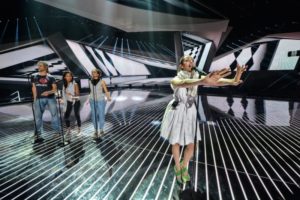 After fourteen years of absence Italy returned to the Eurovision Song Contest last year. They took second place and this year they are back for more. Will 2012 be an Italian success?
This Saturday the Italian team had their first rehearsal on stage in Crystal Hall in Baku. And for a first rehearsal it went very well.
There's no doubt that Nina Zilli has a strong and powerful voice and she hit the notes beautifully. During the performance of L'amore É Femmina (Out Of Love) Nina stands by a microphone stand and it suits the style of the song very well. It's a very lively performance and the songs rhythm is a big part of Nina.
Nina is accompanied by three backing singers. One male and two female. They are a big part of the performance and they move a lot even though they stand behind a microphone stand. They clearly have the same rhythm as Nina.
Nina as well as her three backing singers wore normal and casual clothes, and only one clue to their outfits in the final could be seen: Nina's shoes. She wore a conspicuous pair of green high heeled shoes. Nobody knows for sure whether she's going to wear them in the Final or not, however, they seem to be too special just to be a random pair of rehearsing-shoes. Rumors tell that Nina will be wearing a sparkling dress in silver or purple. Next Saturday we'll know, in the meantime you can watch the rehearsal in the video below.