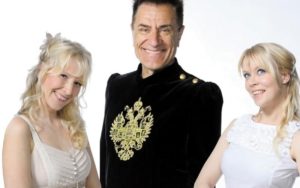 The Finnish representative at the 1965 Eurovision Song Contest, Viktor Klimenko celebrates his 50-year career with a concert tour around Finland. On stage he will be joined by Kuunkuiskaajat, the duo who represented Finland in 2010. The tour begins on September 7.
Viktor Klimenko will be on tour throughout Finland over the next three months and he will be joined on stage by Finland's 2010 Eurovision representatives Kuunkuiskaajat. Every concert will include the biggest hits from Klimenko's long career that he will perform alone and also together with the Kuunkuiskaajat duo, Susan and Johanna, who also will present some of their most popular songs.
Despite Klimenko's Eurovision entry Aurinko Laskee Länteen (The Sun Sets In The West) did not receive any points in the competition his first album, which was recorded in 1970, was successfully released in more than sixty countries. In Finland, it sold more than 50,000 copies becoming the first album to reach the platinum record of the country.
The Singing Cossack, as he was known in the 70's, has also developed an acting career both on theatre and television or cinema. He has been working at the Helsinki City Theatre and he starred films such as Vodkaa or Komisario Palmu and most recently, the horror film Sauna in wich he played a Russian officer.
Kuunkuiskaajat, the duo formed by Johanna Virtanen and Susan Aho have been working together since 2001 when they were two of the members of the most successful contemporary folk group called Värttinä. As members of Värttinä they have toured extensively in Europe and all over the world in more than thirty countries in total.
The duo, as we know it today, was founded in 2009 when their eponymous album was released and in 2010 they represented Finland at the Eurovision Song Contest with the song Työlki Ellää reaching the eleventh position in the semi-final leaving them just out of the final.
Below you can see all the tour dates:
07.09. Mikkeli / Martti Talvela-Sali
08.09. Lappeeranta / Lappeenranta-Sali
21.09. Turku / Logomo
28.09. Tampere / Tampere – Sali
12.10. Joensuu / Carelia – Sali
26.10. Oulu / Madetoja – Sali
27.10. Kuopio / Musiikkikeskus
02.11. Seinäjoki / Seinäjoki – Sali
10.11. Pori / Promendali-Sali
Ticket prices will be around 25€ beforehand and 30€ from door.