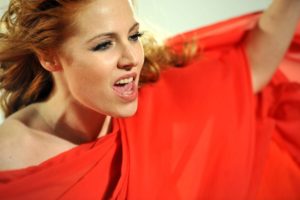 In a surprisingly early announcement the SMTV has confirmed that they have signed a pre-agreement with Valentina Monetta to represent the country at next year's Eurovision Song Contest. It seems that she will, once again, try her luck with a song written by Ralph Siegel.
According to a statement which has been recently published in the official website of the Sanmarinese broadcaster, its director, Carlo Romeo, has signed a pre-agreement with the artist in a meeting that took place this morning in the headquarters of the SMRTV, which was also attended by the producer Ralph Siegel and the artistic director Fabrizio Raggi.
This would not be the first time in the history of the Eurovision Song Contest that the same artist participated three times in a row. Lys Assia, after winning the first edition of the contest in 1956, participated again in 1957 and 1958 representing Switzerland and, in those same years, Corry Brokken was the Dutch representative winning in 1957 with Net Als Toen. One more example is Udo Jürgens who represented Austria in 1964, 1965 and 1966 when he finally won with Merci, Chérie. Considering these statistics, they all managed to win at some point so let's see if Valentina Monetta gets the same success.
Valentina, meanwhile, has failed to qualify for the final in her first two attempts since in 2012 she was ranked 14th in the semi-final with The Social Network Song and in 2013 she achieved the 11th position at the second semi singing Crisalide becoming the highest ranking of the country's history in the Eurovision Song Contest.
You might also want to read:
Below you can watch our 3D video of Valentina Monetta performing her 2013 Eurovision Song Contest entry Crisalide (Vola). As always, we strongly recommend watching this video in 3D, as it was recorded, to enjoy it to its fullest, but if you do not have a pair of suitable glasses this can easily be turned off in the player below for regular 2D watching.