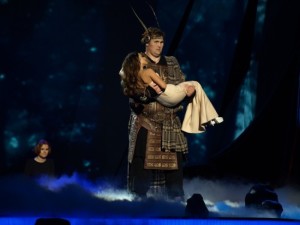 The Ukrainian broadcaster NTU has started the national selection for the 2014 Eurovision Song Contest. Songs can be entered until December 6th and the national final will be held on December 21st. The twenty acts that will perform at the final will be pre-selected by an expert committee.
The Ukrainian broadcaster has announced today an open call for songs to participate at this year's national selection for the Eurovision Song Contest. For those singers and composers wishing to take part, entries must be submitted to the national broadcaster from now and until the 6th of December.
After receiving all the applications, an internal preliminary round will take place to pick the finalists. Then, a special expert committee will select twenty acts to take part in the televised show, which will be held on the 21st of December.
The winning act that will represent the country at the 2014 Eurovision Song Contest in Copenhagen will be chosen during the show through a combination of televoting and the verdict of an expert jury.
Ukraine is one of the most successful countries in the Eurovision Song Contest, having qualified to the final every year since their debut in 2003 and having won it once in 2004 with Ruslana's Wild Dances. In 2013, Zlata Ognevich placed third with her song Gravity. You can watch her performance in our 3D video below. If you don't yet have the suitable equipment this can easily be turned off in the player for regular 2D viewing.
You might also like to read: