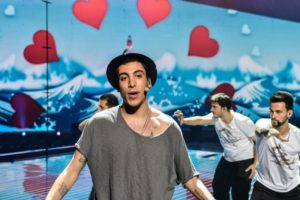 Can Bonomo is this year's representative from Turkey. Can his song "Love Me Back" make it to the final after last year's failure? 
Can Bonomo from Turkey just had his first rehearsal at Crystal Hall in Baku. And the main theme is stormy weather.
The back drop is basically a lightening sea storm filled with Ship's wheels, anchors, and lighthouses – and of course a lot of red hearts. It could easily have been taking from a cartoon somewhere, however, the dramatic drawings work quite well, and they give the song a strong atmosphere of unrequited love.
Can's outfit is very casual. Jeans, a t-shirt and a hat.
Can Bonomo is accompanied by five male dancers / backing vocalists. Just as Can, they're very casual dressed – white t-shirts and blue trousers. This may, however, not be their final outfit. The dance routine gives the song an oriental flavor. In the middle of the song one of the dancers gives a little break dance show.
The Turkish team has like many others added fireworks to the performances.
Last year Turkey missed the final, will this bring them back? Judge for yourself in the video below.