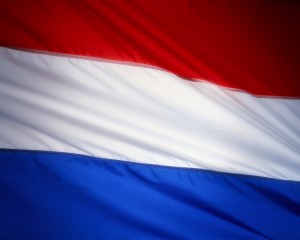 It finally appears as if Dutch broadcaster TROS has given in to mounting criticism of and resentment for their selection methods as well as public demand following the catastrophic placing of the 3JS in their semi final in Düsseldorf and have decided to change the format of Nationaal Songfestival.
Articles began to surface in the Dutch media this afternoon, following a press conference at the TROS headquarters in Hilversum. Chairman of TROS, Peter Kuijpers presented a large box , supposedly meant to symbolise a suitcase in the colours of the dutch flag. The box will be stationed at the headquarters, where anyone can deposit their potential entry. Submissions are therefore possible day or night, up until the deadline expires at midnight on Friday, the 30th of September.
TROS has in other words, chosen to divert from their tactic of the past four years, by artists and or songs being chosen through an internal selection, and instead decided to invite anyone and everyone to submit their entries in the hope of acheiving a better result next year. Dutch tabloid De Telegraaf quotes Kuijpers as stating "We received so many e-mails and phone calls in Düsseldorf from
artists who have expressed a wish to participate in the Eurovision Song Contest, so we want to give everyone the possibilty". Dutch newspaper De Pers writes however that the selection is only open to Dutch nationals.
Following the submissions deadline, a jury will convene to sort through the entries that have been submitted before a shortlist is revealed at some point in November of those who have made it past the first round. According to TROS, a TV show will most likely feature six or seven artists and be broadcast in late January. Watch this space for further developments!