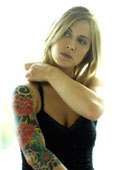 Speculation reached fever pitch when John De Mol, producer of this year's Nationaal Songfestival recently stated that he would gladly contact Dutch superstar Anouk in the hope of attracting her to take part in the national selection. Anouk reveals however a slightly different side of the story on her website.
It has happened a number of times in recent years; often before the participants of Nationaal Songfestival in the Netherlands are revealed, some seem to go into overdrive, heavily touting Anouk as the hottest candidate to participate. Such a music talent would naturally be most welcomed my most Dutch fans but the proposal of Anouk as Dutch candidate just never seems to materialize. According to Dutch Eurovision fansites Anouk had already previously attempted to represent the Netherlands in 2009, but broadcaster TROS opted instead for the safer option with De Toppers and Shine, and we all know unfortunately how that ended. Yet another year with no Dutch presence in the final, with their entrant hovering around the nether regions of the semi scoreboard.
TROS had the golden opportunity to select an artist who does indeed have considerable weight and respect overseas, followed by both fans and music critics alike, yet opted for the tried and tested formula of domestic favourites De Toppers. Anouk experienced a meteoric rise to fame in the mid 90's with her blistering rock number Nobody's Wife which became a huge hit in many parts of Europe. Following her breakthrough, she just as quickly dissappeared again, often referred to by many as a one hit wonder. But the artist chose to go her own way and kept on releasing edgy, influential music in her native Netherlands.
And so the story seems to repeat itself once again this year. The star has left a personal message on her website that, despite approaching TROS with what she deems a "killer song", the broadcaster insists that she jumps through hoops, making her take part in what she describes a talentshow, citing that TROS seem to be more interested in filling prime time TV than ever having a realistic chance in the Eurovision Song Contest.
TROS have spoken to Dutch media, telling of their surprise that Anouk is once again eyeing up her chances at the Nationaal Songfestival, and that the singer had not contacted them directly, but had been in touch with De Mol. TROS are adamant that there will be a Dutch entry in Malmö next year and that a national final will take place once more, but more than welcome Anouk to join them for negotiations. Judging by Anouk's reactions, fans will probably have to wait a while to see their favourite take to the stage in Hilversum, with the artist seemingly dead set against the concept of TROS' national selection.