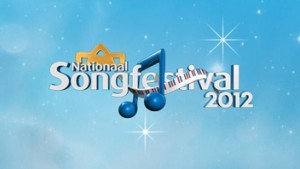 Despite a disappointing result in Baku for Joan Franka and her entry You And Me, it wasn't all bad news for Dutch broadcaster TROS. The revamp of Nationaal Songfestival with John De Mol at the helm resulted in a number of triumphs for the channel.
Once the humiliating defeat for popular Dutch trio the 3JS in Düsseldorf was a fact, it was back to the drawing board for TROS. They realised that they had to come up with a drastic makeover and revamp the national selection in order to sustain public interest in the Netherlands. And that they did, by pulling out all the stops and managing to get none other than media mogul John De Mol involved in the project, giving the contest a much needed shot in the arm of vitality.
De Mol is the man behind the globally succesful production companies Talpa and Endemol entertainment, responsible for shows such as Deal or No Deal and Big Brother. For the first time since 2005, the Dutch entry was chosen by means of an open national final. Innovative new changes were introduced – 3 duels between participants, an international panel as well as a highly respected professional jury, all elements combining to make the voting process far more exciting than in recent years. Following his involvement and revamp of the contest, Nationaal Songfestival managed to gain a 30,6% share of the viewing market, with 2.3 million viewers, thus making it one of the most watched Dutch national finals for a long time.
The show managed to produce a controversial winner in Joan Franka, who went on to score a huge hit in her native Netherlands with You and Me, the most popular winner to emerge from Nationaal Songfestival for quite some time. With TROS' intentions being nothing other than an unmitigated success, the successful partnership of De Mol and TROS seems set to continue in 2013 with De Mol recently commenting on the matter on the VIOranje talkshow on RTL. He stated his intention to give it another shot with TROS next year, although no clear plans have been made yet. Moreover, his comments are yet to be confirmed by the broadcaster but should hopefully be a mere formality.