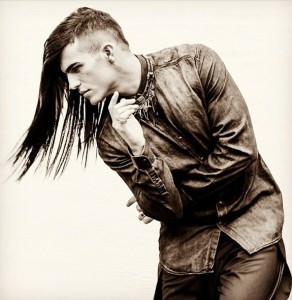 Norwegian Tooji seemed to struggle with the overwhelming media attention after his performance of Stay in Baku and subsequent single If It Wasn't For You failed to see any chart action. Not one to give up, Tooji is back with a brand new single and striking new look.
Tooji was accused by many of being an anaemic copy of Eric Saade the previous year, with his Swedish composed, slickly choreographed stage number Stay. There were some similar elements in his act, and his choice of stage outfit certainly bore more than a passing resemblance. Once the dust had settled around his last place at the 2012 final, a subsequent single, a tribute to his mother, If It Wasn't For You was released. The rather insipid effort failed to make any impact on the charts whatsoever, despite him gaining further media exposure while hosting the popular Melodi Grand Prix Junior progamme. At that point, it looked as if Tooji was struggling with both his artistic sound and imagery. Then things went rather quiet.
That was, until now. Tooji, otherwise known as the Prince of Persia, is back. And what a return! Gone is the polished, hip, slick look of last year and in its place, we see an altogether rawer, tougher image, half of his head shaved and long, what almost look like dreads on the other. It's a look that the 26 year old seems much more comfortable with. The look accompanies what is his first single in over a year, the aptly titled Rebels.
Tooji describes his newest single as a heady mixture of dance pop, infused with many organic elements and a dash of hard electronica for good measure. Rebels is due for release on the 20th of September, together with a video that is reported to have been shot in the UK, in Kent to be precise and featuring a wolf of all things! A small clip has already been published on the net, and the overall impression is that it is a much more meatier, heftier number than his previous two singles, with massive radio appeal. Eurovisionary will share the video with our readers as and when it becomes available.
You might also like to read: