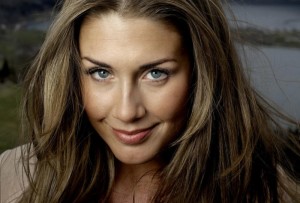 Tone Damli Aaberge came oh so close to representing her native Norway back in 2009, but was stopped in her tracks by the overwhelming victory of Alexander Rybak and Fairytale. She did however go on to achieve some success in the US wtih her second placed entry Butterflies. Now, she feels it's time to give it another go.
Since 2009, Tone Damli Aaberge has managed to maintain a heavy media profile in Norway in one for or another, either as a recodring artist or figuring in the media as the fiancée of one of Norway's most famous actors, Aksel Hennie. She caused uproar earlier this year when appearing extremely scantily clad in one of her music videos and has lately enjoyed great success in Sweden with a steamy duet recorded with the Swedish pop golden boy Eric Saade. Renewed success in neighbouring Sweden has given Damli Aaberge a taste for more and so she has turned to Melodifestivalen, it was revealed today.
Usually, it's a case of Swedish composers and songwriters invading the Norwegian selections, with the noteable exception of Nick Borgen, Maria Haukaas Storeng and this year Alexander With as songwriter behind Lisa Miskovsky's Why Start A Fire. Damli Aaberge sees Melodifestivalen as a natural platform for the expansion of her career in Sweden and wants to therefore buck the trend and fly the Norwegian flag in Sweden. Within approximately a month or so, the young starlet will find out whether she indeed has been one of the lucky ones to make the grade in what is one of Europe's toughest competitions. Tabloid Dagbladet has approached Damli Aaberge's manager, David Eriksen (coincidentally the man behind the 1998 Norwegian entry Alltid Sommer), but he is reluctant to comment on the matter, keeping all cards firmly to his chest.
If rumours are anything to go by, Damli Aaberge could once again be reunited with Saade on stage, as there has been a great deal of speculation abounding in Swedish media lately with Saade's name tipped as one of the hot candidates to host Melodifestivalen 2013