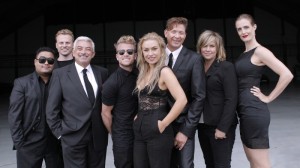 In a new TV programme on DR Tim Schou, leadsinger in A Friend In London, will be looking for the perfect hidden talent to sing duet with him. In competition with other famous singers of various genres he will try to help his duet partner to win the prize of a quarter of a million.
The programme in Danish called Skjulte Stjerner (Hidden stars) will be shown on DR this autumn. Today the 8 more or less well known singers were presented at a press conference. 
Tim Schou, leadsinger from the band A Friend In London, that represented Denmark at this year's Eurovision Song Contest and came 5th with their New Tomorrow will be competing against soul singer Karen Rosenberg, entertainer and singer Johnny Reimar, opera singer Magnus Vigilius, rock singer Anders Blichfeldt, pop singer and songwriter Clara Sofie, pop singer Marie Frank and rap singer Uso.
In Skjulte Stjerner it is 100% decided by the TV viewers who continues to next round and also who at the end win the prize of 250,000 Danish kroner. The established singers will be coaching their duet partners and the viewers will be commenting on the performances as they go along via a blog. The unknown talents they will sing together with have not applied for the programme themselves, they have been suggested by family and friends. 
Felix Smith, host of three three previous Danish finals and also the coming 2012 edition, will be hosting the show where he will have to inform about the comments made on the blog by the TV viewers.
DR's entertainmentboss Jan Lagermand Lundme says: "I am very happy to be able to present a completely new developped entertainment programme, where some of Denmark's best singers will perform with what they do best. At the same time it will be great to experience how some of the singing talents hiding around Denmark will turn into stars on TV and at the best broadcasting time".
You can follow Tim Schou and the others in Skjulte Stjerner from the 2nd of September at 20:00 CET on DR1.    
Links