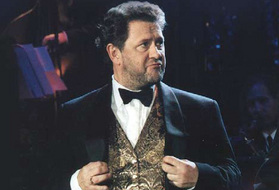 Besides hosting the  Eurovision Song Contest in Malmö, SVT have already started working on their national final. As usual, SVT wish to attract big names to their national selection and it is strongly rumoured that veteran Tommy Körberg will make his return.
Tabloid Expressen reports today that organiser of the 2013 Melodifesltivalen SVT has two time Swedish entrant Tommy Körberg in its sights and would love him to participate once more in the national selection. Körberg is a major name both in Sweden and overseas, so getting him involved in the project would be a huge scoop for SVT. The 64 year old first represented 2012 winner Sweden way back in 1969 with Judy Min Vän, coming 9th. Fast forward to 17 entries later, and Körberg once again took to the stage in Dublin in 1988 to defend the Swedish colours with the anthemic ballad Stad i Ljus, only managing a disappointing 12th placing. Following his misfortune at Eurovision, the artist vowed that he would never go through the ordeal again. That is, up until now.
For Körberg seems to have had a change of heart. The artist has been pencilled in the line up on previous occasions, but has subsequently turned down SVT due to the choice of song he was to sing. In his interview with Expressen, jovial Körberg joked that "I normally joke that I do Melodifestivalen with 19 year intervals, so I should have actually taken part in 2007, but was given a crappy song by Christer Björkman."
Körberg went on to say that a meeting with SVT is in the pipeline, where possible collaborations are to be on the agenda: "I have a little idea, I'm just curious as to whether it is viable or not", he said to Expressen. The ever so modest star went on to say that "I am a musical being, so entering would have to be something major, they'd have to come up with something jaw dropping. I do have an idea, I just have to see if it can be done." Perhaps Körberg was inspired by Björn Ranelid's venture this year – it will certainly be interesting to see what he has up his sleeve.