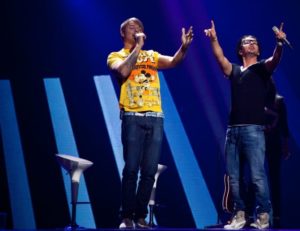 Latvia were the fifth country to take to the stage today and many curious fans and press ahd gathered in front of the stage to see what Musiqq had to offer us today.
The 4 backing singers have decided to slip into something altogether more informal, with totally uncoordinated outfits. The two singers that make up Musiqq are equally mismatched, the vocalist sporting a yellow t-shirt and the guitarist wearing a black t-shirt and his trademark black rimmed glasses. Their choice of outfit was possibly due to the sweltering heat outside, as things are also starting to heat up inside the arena.
The introduction where Musiqq are perched upon white plastic bar stools with their backs to the audience is just plain strange – maybe it's deliberate in order for the camera to catch the audience in the background, but luckily they soon swivel round to face the rest of us witnessing their rehearsal before launching into the first chorus.
The backdrop is kept the same as in the first rehearsal and looks dazzling, with flashing bars in groups of 4 alternating between blue and white on a black background, with white strip lights lighting up the stage from above and below.
The first run through looks somewhat stilted, with vocalist Emils looking quite uncomfortable at dancing and singing at the same time – luckily he thawed out considerably halfway through the rehearsal. The rapper and guitarist Marats looks by far the most comfortable of the two, his rap sounding very fluid. There's no faulting Emils' voice however – although slightly husky on just a few notes, he was indeed in fine form, with the ending where the music and beat fading out as he launches into a falsetto finish showcasing his voice to great effect.
In my view
Although there's much to like about Angel In Disguise, and it does have a lot going for it, I get the distinct feeling that it runs the risk of getting lost in its' semi final as it comes across as rather flat in the arena.

The opinion expressed in "In my view" are those of the author and are not necessarily the one of EuroVisionary.com.