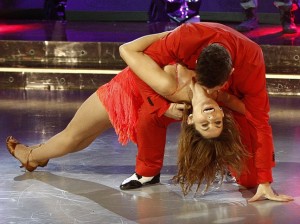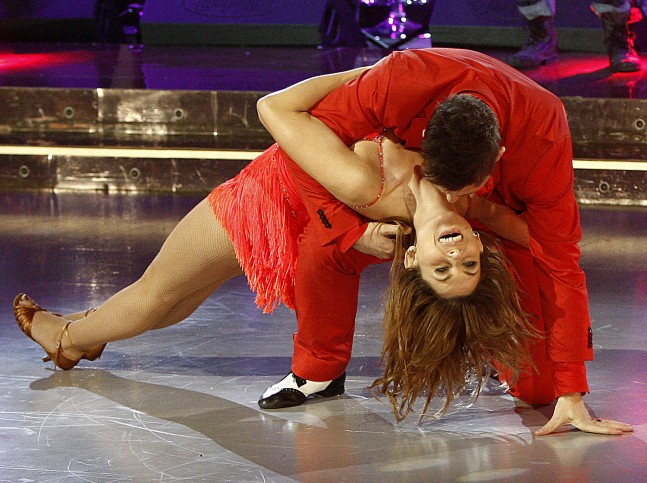 2010 Danish national finalist Kaya Brüel has so far survived 5 couples being voted out of Vild Med Dans 2011, the danish edition of Strictly Come Dancing, but nerves are high for Friday where she won't be able to dance live and risk being kicked out while she is in Germany for a theatre performance. 
Kaya Brüel has the previous week been pendling back and forward between a theatre performance in Germany and TV2's studio in Denmark where Vild Med Dans is being recorded. So far it has only been giving problems in relation to a minimum amount of training, but on Friday it means that she miss out on the live programme. Where her competitors will be dancing live in the studio and facing the judges right after Kaya and her partner Steen Lund will instead be dancing their Argentinian Tango Thursday and a video clip will be shown in the Friday live programme.
TV2 has been trying to negotiate that she for this one evening could be replaced by a substitute in the theatre performances of Voices that is currently on tour in Germany, but the Spanish director has not wanted to accept that.
It is not the first time that a video clip will be shown instead of a live dance in Vild Med Dans. Two years ago René Dif from Aqua was unable to be in the studio due to a concert in Norway. Whether or not it was due to the use of a video performance we don't know, but René Dif was voted out of the programme in absentia.
Kaya says about the unfortunate situation: "It really bothers us and makes us nervous, but despite all then it is good that we'll be dancing the Argentinian Tango, which we both love. We hope for understanding from the TV viewers. When we are being voted out we hope it will be on equal terms with the other couples and not due to something we can't control." Her dancing partner Steen Lund adds that that they want to be voted out together and not with him standing alone in the studio and Kaya being told while she is in Germany.
TV2's entertainment boss, Gitte Madsen, who has all the time been informed about the situation with the German tour says:"This is the price for insisting on having such a strong cast of current names as we do this year. We of course accept that".  
Kaya participated in the 2010 Danish final, the Dansk Melodi Grand Prix, with the song Only Tonight. You can read more about her participation in Vild Med Dans in our previous article and don't forget that EuroVisionary is also following 1969 Eurovision Song Contest winner Lulu in the 9th British edition of Strictly Come Dancing.