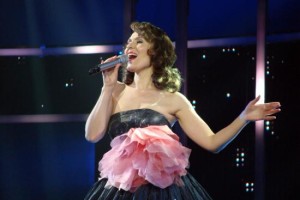 Kaya Brüel, who participated in the Danish national final in 2010 with the song Only Tonight, will take part in the next Danish edition of the world famous TV programme Dancing With The Stars. She will among others be competing against Silas Holst just as she did in that year's national final.
It came as quite a surprise when Kaya Brüel decided to participate in the Dansk Melodi Grand Prix last year. She was a well known singer, but few would have guessed that she would try to do what her grandmother, Birgit Brüel, did in 1965; represent Denmark at the Eurovision Song Contest. 
Kaya Brüel will once again step out of her comfortzone when she takes part in the 8th season of Vild Med Dans, as the format is called in Denmark. She will be dancing with professionel dancer Steen Lund, and as such she will once again be in direct competition with Silas Holst, who is one of the regular dancers in the programme, but showed off his singing talents when he also competed in the Dansk Melodi Grand Prix in 2010. Where Kaya didn't manage to qualify for the super final Silas did with Come Come Run Away that finished on a tied third position that year where Chanée and Nevergreen went on to represent Denmark at the international contest in Oslo.

Vild Med Dans season 8 starts in Denmark on September 9th and together with actor Nicolaj Kopernikus Kaya Brüel is one of the top favourites to win – at least among the bookmakers. The other participants are: actor Thomas Voss, boxer Patrick Nielsen, freestyle skier Sophie Fjellvang Sølling, actor Tommy Kenter, actor Anne Sofie Espersen, rapper Al Agami, politician Pia Allerslev, weather host Eva Nabe Poulsen, actor Hella Joof and musician Ole Kibsgaard.
In 1965 Kaya Brüel's grandmother, Birgit Brüel represented Denmark at the Eurovision Song Contest with the song For Din Skyld, which came 7th.   
Below you can remind yourself of Kaya's Danish national final song Only Tonight.