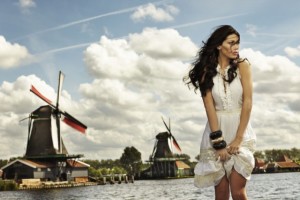 Tereza Kerndlova represented Czech Republic at the 2008 Eurovision Song Contest with the song Have Some Fun.  She is back with a new single, Přísahám (I Swear), from her forthcoming new album due for release in September.

Tereza Kerndlova has just recorded her brand new video for Přísahám.  The video was recorded in Prague through the night.  Tereza was wearing a white mini dress where she acts as an angel.  The song is a gentle ballad with r&b influences.  It is composed by her boyfriend, Rene Mayer.
Her new album is scheduled for release in September.  It will be her 4th solo album.  Tereza was previously a member of the popular Czech girl band, Black Milk.
Tereza finished in 18th place with Have Some Fun in the 2nd semi final in Belgrade in 2008.
You can see the video of Přísahám below and also Tereza's performance of Have Some Fun in Belgrade where she is joined on stage by the 2011 Slovakian participants, Twiins, as backing singers and dancers.