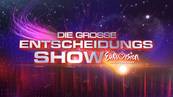 The Sinplus brothers tried their best with their rock anthem Unbreakable, but still did not manage to bring Switzerland out of their respective semi in Baku this year. Broadcaster Schweizer Fernsehen are first to confirm the date of their national final.
Not one to be out off, Schweizer Fernsehen, SF have already confirmed their participation at next year's contest and have outlined the first details of their national selection, Die Grosse Entscheidungsshow. As usual, the Swiss are as punctual as the watches and cuckoo clocks they make and are the first country to confirm their national final date, which by coincidence will also be the first one to kick off the season.
As with the last two years, Die Grosse Entscheidungsshow is confirmed as taking place in Kreuzlingen, at the Bodensee Arena on the shores of Lake Constance. The date has provisionally been set for Saturday the 15th of December. Since their national selection process was revamped two years ago, Switzerland have managed to advance to the final in 2011 with Anna Rossinelli, coming last with the bubbly In Love For A While. Let's hope the Swiss have better fortunes next year. Stay tuned for further details.
Below you can watch our 3D video of Sinplus performing their 2012 Eurovision Song Contest entry  Unbreakable. As always, we strongly recommend watching this video in 3D, as it was recorded, to enjoy it to its fullest, but if you do not have a pair of suitable glasses (that can be bought at our 3D page) this can easily be turned off in the player below and watch it in regular 2D.