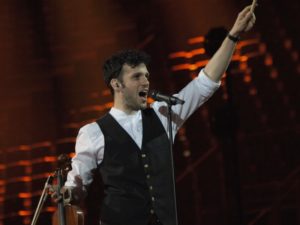 The Swiss broadcasters have announced the rules, regulations and dates for the upcoming selection process for the 2015 Eurovision Song Contest and, after a successful result in 2014, Switzerland will keep the same lengthy selection method from last year which will consist of three stages.
The Swiss broadcasters have revealed the details regarding the 2015 national selection for the Eurovision Song Contest. As usual, the process will involve candidates from each of the four Swiss broadcasters: German-language SRF, Romansh-language RTR, French-language RTS and Italian-language RTI.
First of all, just like in previous years, SRF and RTR will call for entries through an Internet platform. Artists wishing to compete at the forthcoming Swiss national selection must submit their bidding entries on SRF's digital platform from the 29th of September until the 27th of October. Anyone can take part regardless of their nationality. In November there will be an online voting where the users will be able to vote (four times maximum) for their favourite songs. An expert jury will also rate all the candidate entries and they will be responsible for the other half of the outcome. A total of nine hopefuls will be shortlisted to go forward to the next phase of the selection process, the Expert Check.
While SRF/RTR will select their potential Eurovision entries via a digital platform, RSI and RTS will pick internally their candidates.
During the second stage of the selection, a total of eighteen acts (the top nine hopefuls from SRF/RTR along with six candidates from RTS and three more acts from RSI) will perform live in front of a group of experts at a so-called Expert Check round. After an exhaustive evaluation where the experts will assess the candidates' live performance skills, voice quality and stage presence, they will select the best three songs from SRF/RTR, two from RTS and one from RSI.
These six acts will be the six finalists that will battle for the right to represent Switzerland in Austria on a televised national final which will be held in Kreuzlingen on the 31st of January. The six qualified acts will perform their potential Eurovision entries plus a cover version of another song. The winner and thus the Swiss representative in Austria will be determined by a 50/50 split of public and jury voting.
Sebalter did a fantastic job representing Switzerland in 2014 with his song Hunter Of Stars. He managed to achieve a respectable 13th place in the final, one of the best results in recent times at the Eurovision Song Contest. You can watch his performance in our 3D video below:
You might also like to read: