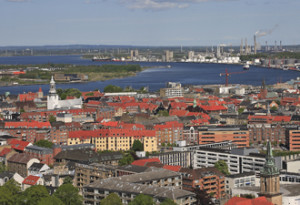 Aalborg's early bid on next year's Danish final paid off. Today host broadcaster DR signed the contract with the city for Dansk Melodi Grand Prix 2015 on the 7th of February. This will be the 5th time Aalborg hosts the the show, which also includes the Danish junior show the week after.
The 2014 Danish final was still a month away, when Aalborg gave their offer on the 2015 event. This early interest paid off as the deal was sealed today: Aalborg will host Dansk Melodi Grand Prix 2015 on the 7th of February, and the Danish junior show; M:G:P on the 14th.
Aalborg hosted Dansk Melodi Grand Prix for the first time in 1992. Back then it was held in the smaller arena Aalborghallen. Gigantium was then build, which can take up to 10.000 spectators, and with that as the arena the city got the contest again in 2006, 2010 and 2012 – and now also 2015.
Located in the north of Jutland Aalborg is Denmark's 4th largest city. It is a big congress and university city and lately a lot of money has been spent on the new classical arena, Musikken's Hus, and the new harbour promenade. 
The deadline to submit entries for the Dans Melodi Grand Prix 2015 has been set to 8th of september 2014.
You might also like to read: