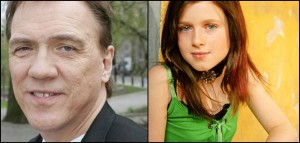 It's Melodifestivalen time!  It was a bit of a shocking result for most Eurovision fans, but that's what the Swedes wanted.  Kristian Luuk is back as host again and the comdey kept on flowing in the Scandinavium arena tonight.
For those of you who can cast your mind back far enough, the Scandinavium was the host venue for the 1985 Eurovision Song Contest that was held in Göteborg.  It's a bit of a pity but Lill Lindfors wasn't there.
As usual eight songs competed for two spots in the final and two more in the 'Andra chansen' round, that's second chance to you and me.  The collaboration of E-Type and the Poodles was up first. It was reportedly the most expensive pyrothecnics ever seen in Melodifestivalen.  They were followed quicly by the girl group Face 84. Now, while their name might make you envision a bunch of geriatric grannies they are actually far from it.  The four girls put in a good performance but their song wasn't strong enough and they didn't make it past the first round of voting.
Velvet decided to make a return to the contest this year and she was looking fantastic, her song wasn't bad either!  Brandur Enni was next up on the stage that looked like the builders hadn't quite got around to finishing it off!  He sang a beautiful ballad, but it seems his 'Lullaby' put the voters to sleep and he failed to get past the first voting stage.
Michael Michailoff's song was a pleasant little ditty, but again t wasn't enough and he made up the trio that fell at the first hurdle.  The young starlet, Amy Diamond, then had a dance around the stage and finished breathless.  It did her popularity no harm though and she secured one of the final spots.
From the youngest to Suzzie Tapper, who could be described as a more mature woman.  Her age was no handicap however and she manged to sing her Swedish language ballad all the way to the second chance round.  We finished off the night with a glam-tastic entry by Christer Sjögren.  He had feather, flags and girs in skimpy costumes, what more could a Eurovision entry need, maybe a bit of a tune or some good lyrics.  None of that seemed to concern the Swedish voting public and Christer won a ticket to the final.
The final results looked like this;
TO THE FINAL:
Christer Sjögren, I Love Europe
Amy Diamond, Thank You
TO THE SECOND CHANCE:
E-type & the Poodles, Line of Fire
Suzzie Tapper, Visst finns mirakel
Other entries:
Velvet, Déjà vu
OUT AFTER FIRST ROUND:
Face-84, Alla gamla X
Brandur, Lullaby
Michael Michailoff, That's Love
In my view
This was a very low quality semi final by Swedish standards, and I just hope that they've gotten all the bad songs out of the way in one go.

The opinion expressed in "In my view" are those of the author and are not necessarily the one of EuroVisionary.com.