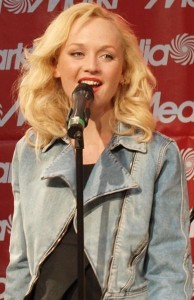 Sweden will participate 6th in the second semifinal, and they had their first rehearsal today in the Telenor Arena. The sun is shining outside, so everyone is quite happy and shiny
This beauty entered the stage for the first time, with her song This is my life. The stage was red, they were dressed in white suites, And all the stage was well lit.
At the beginning of the song we saw her with guitar singing, then a bit later, male backing vocalists entered the stage behind from her, slightly higher up. The song is the same as in the national Swedish final, with just some little innovations. There are five backing vocal singers who are singing parts and covering her.
About the effects, apart from the lights, there is a wind machine, which gives a nice effect.