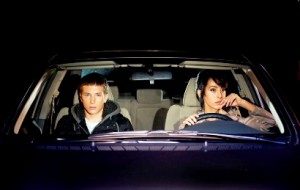 Things have been somewhat quiet around Israeli superstar Rita of late. Many remember her for the memorable performance of שרה ברחובות at the 1990 Eurovision Song Contest, but were you aware that Rita is also an accomplished actress?
Rita's first taste of treading the boards came in 1982, following a two year stint of completing her national service in the Israeli army, after which she enroled in the Beit Zvi school of acting. In 1986, Rita starred in an adaptation of the musical My Fair Lady. It was at this stage that music completely engulfed her career, and her acting days seemed to be over.
During the period 1988-2008, Rita's career as an artist has gone from strength to strength, with the release of no fewer than 9 studio albums. Her love of acting was kept well hidden until she was offered the role in a short film entitled Ben is Back directed by Elad Zakai. The plot tells of a single mother (played by Rita), who has to cope with the forced hospitalization of her mentally unstable son in a psychiatric hospital. He is eventually released, and the film deals with the aftermath, when Rita goes to pick up her son, which marks the beginning of an extremely emotional journey during which she is forced to confront the brutal truth.
The film was released in Israel last year to critical acclaim, but is only now starting to attract attention overseas. It was recently one of the main featured short films at the Israeli Film Festival in New York, which took place from the 5th-19th of May. Let us hope that Rita's challenging role in this mini masterpiece doesn't go unnoticed and brings her even further acclaim.
Links